Iraqis hailed the Vatican's announcement Monday (December 7th) that Pope Francis would make the first-ever papal visit to Iraq in early March.
Many hope the historic visit will help heal the country after years of war and violence.
This will be the Supreme Pontiff's first foreign trip in over a year, after the Vatican cancelled all scheduled visits abroad for this year due to the novel coronavirus (COVID-19).
Pope Francis was formally invited to Iraq in 2019 by President Barham Saleh, but all of the pontiff's trips were cancelled in June this year because of the pandemic.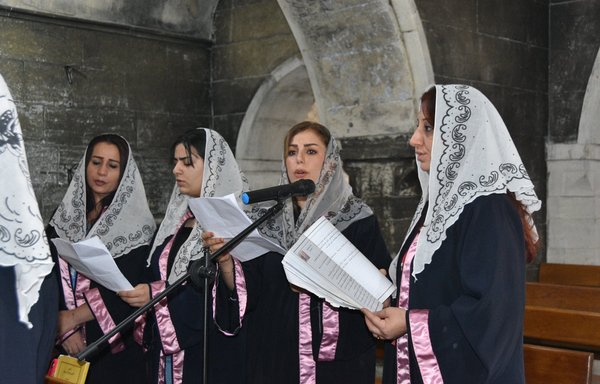 The itinerary consists of trips to Baghdad, the southern city of Ur -- where Abraham is said to have been born -- and the Christian heartland of Ninawa province.
The "Islamic State of Iraq and Syria" (ISIS) seized the Ninawa Plains in 2014, displacing hundreds of thousands of Christians who feared execution or forced conversion by the extremist fighters.
It will be the pope's first trip abroad since the outbreak hit Italy -- and Iraq is the perfect destination, said Louis Sako, patriarch of Iraq's Chaldean Catholic Church.
"Visiting Ur is a visit to Abraham, the father of all believers. It is a pilgrimage, a pilgrimage to an Abrahamic family that should draw people together, not tear them apart," said Sako.
"This is unique to Iraq -- the Pope cannot do this anywhere else."
The pope's visit "will represent a clear message of support for Iraqis of all affiliations that affirms humanity's shared aspiration for peace and tolerance and rejection of extremism", Iraqi President Barham Saleh said in a social media post Tuesday.
The Iraqi Foreign Ministry also welcomed the visit in a December 7th statement.
"It will be a message of peace to Iraq and the entire region, affirming the united humanitarian stance in confronting extremism and conflicts, and strengthening diversity and tolerance," it said.
'Great joy'
"We received the news of the visit with great joy; this blessed step is welcome by Iraqis of all affiliations," Iraqi MP Yonadam Kanna, who heads the parliamentary Christian Rafidain bloc, told Diyaruna.
"His Holiness Pope Francis has for a long time been looking forward to visiting Iraq's historic cities, such as the city of Ur," he said, adding that the pontiff has always prayed for peace to prevail in the country.
The visit will positively impact Iraqi society, strengthening amity and social reconciliation, he said. It will also convey to the world that "Iraq is not a place of extremism and terror, but rather of openness and peace".
Morning mass in Karemlash, an Iraqi village once held by ISIS, is usually a sombre affair. But this week, elderly parishioners rejoiced with news of Pope Francis' visit next year.
"We are all so happy. We have been waiting for this for so long," said 45-year-old Adiba Henna, smiling in the cold air after a prayer service at St. Adday Chaldean Church, in the Ninawa highlands of northern Iraq.
"Every time he visits a country, we think, why does he not come to Iraq? Are there no Christians in Iraq? This is the greatest, most beautiful thing he could do."
Encouraging Christians to return home
Duraid Hikmat Tobia, director of Ninawa's Agriculture Department, expressed hope that the pope's visit will encourage Christian residents to return.
"We hope that it will be a gesture that will reassure Christian families displaced by terrorism to return to their places of origin," he told Diyaruna.
Many Christians are still afraid to return, despite the stable security situation, he said, citing the example of the city of Mosul, whose Christian population has been reduced from 3,000 families to a few dozen.
Iraq once counted around 1.5 million Christians, but the community has been ravaged by conflicts, and an estimated 400,000 Christians remain in the country.
"The Pope's visit can rejuvenate and enhance the social solidarity between all Iraqi ethnic groups that has been a hallmark of our country throughout the ages," said Tobia.
Such visits by senior figures or heads of state can "open up wide-ranged prospects for prosperity", he said, which is extremely important for Iraq as it seeks to turn the page on the era of terrorism and rebuild its economy by attracting investments.
"This is a kind gesture by the Pope to turn the world's attention to our country," Christian activist Rami Hanna Kroumi told Diyaruna. "It reflects His Holiness's concern for Iraq's history and culture and his prayers for it to recover from the burden of wars and terrorism".
"The visit is an invitation to the remaining Christians in Iraq to persevere and remain in their country, take part in reviving its cultural identity and plurality, and enrich it with intellectual, scientific and cultural contributions," he said.