For close to a week, the Egyptian army has been pounding the hideouts of extremist elements in North Sinai and pursuing fleeing fighters as part of a new ground and air campaign to rid the area of the threat of terrorism.
The campaign began on Sunday (October 16th) following a Friday "Islamic State of Iraq and the Levant" (ISIL) attack on an army checkpoint in the Bir al-Abd area west of al-Arish that killed 12 soldiers and wounded at least six others.
Special forces units, the 2nd and 3rd field armies and the police are taking part in the crackdown, according to military spokesman Brig. Gen. Mohamed Samir.
This is the second comprehensive campaign Egypt's army has launched since Operation Martyr's Right kicked off in the peninsula in September 2015.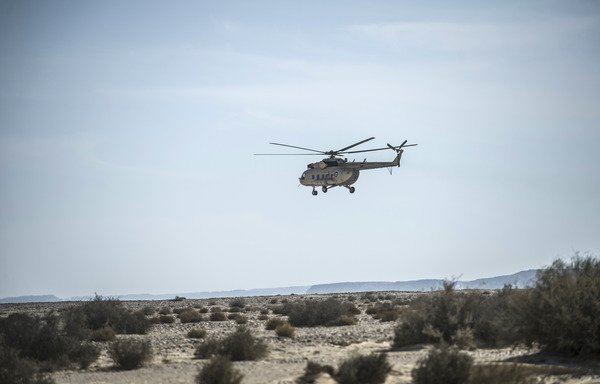 The campaign will include a review of all security arrangements in the targeted areas, with security forces "adhering to the rules of engagement to ensure the safety of civilians who may be used as human shields by militants", Samir said.
Following the Friday attack, President Abdel-Fattah al-Sisi issued a statement vowing the incident would only "increase our determination and persistence to continue our battle for development and survival".
On Tuesday, al-Sisi extended a state of emergency in designated areas of North Sinai for three more months, effective October 31st.
Pursuing fleeing fighters
The army said it killed 33 militants on Saturday and Sunday during air and ground raids on their hideouts and arms caches. On Monday and Tuesday, Egyptian forces killed 19 more in a similar series of raids.
Three Egyptian soldiers also lost their lives in the line of duty.
"Army and police forces as well as other security agencies continue to operate in areas of Sinai to eradicate terrorism," said Brig. Gen. Jawdat Ashraf of the Egyptian police, who is currently stationed in Sinai.
There has been a recent shift in the type of military operations being conducted, however, in view of the notable decline in terrorist activity, he told Al-Mashareq.
Military operations have gradually transitioned from almost daily confrontations and raids on known hideouts to precision strikes and pursuit operations, he said, noting that "this indicates a decline in [militant] military capabilities".
Due to the successive losses they have suffered, extremist fighters rarely venture out into the open anymore, he said, and when they do, they quickly "make a show of force then disappear quickly before the security forces arrive".
The military's focus is now on uncovering desert hideouts where militants take cover, Ashraf said, with ground and air forces conducting raids around the clock.
Rooting out extremists
In conjunction with the military operations, ُEgyptian forces are carrying out daily security operations and patrols, terror group specialist and retired Egyptian military officer Maj. Gen. Yahya Mohammed Ali told Al-Mashareq.
As part of these operations, the Egyptian security forces have "set up checkpoints and roadblocks to inspect cars and their [registration] documents and check residents' identity cards", he said.
The new operation in North Sinai has two key objectives, he said.
The first is to fully impose the rule of law in the region, where there has been a prevailing state of lawlessness, while the second and more important goal is to root out extremist fighters and thwart planned attacks.
Some militants seek to conceal themselves and travel among civilians using forged identification documents, he said, adding that dozens of such cases are uncovered "and many takfiri elements are caught on a daily basis".
Egyptian forces also are cracking down on the illegal trade in drugs such as hashish and narcotic pills by cutting off smuggling routes, he said, as this type of activity may serve as a source of funding for extremist groups.
Religious advocacy caravans
In conjunction with security efforts in Sinai, Egyptian authorities are also focusing on disseminating moderate Islamic thought as part of a comprehensive plan to crack down on extremist ideology.
Al-Azhar has dispatched religious advocacy caravans in Egypt and around the world to correct misconceptions about Islam, Sheikh Rajeh Sabri of the Ministry of Endowments told Al-Mashareq.
Within Egypt, he said, the efforts of Al-Azhar and Dar al-Iftaa are focused mainly in North and South Sinai.
The objective is to "ensure residents, and the youth in particular, are immunized against deviant ideas by means of the advocacy convoys that are spread out across all regions and reach distant and remote villages", he said.
A number of Al-Azhar affiliated institutes and schools have been opened that help to disseminate moderate Islamic thought, he added, noting that these efforts complement the ongoing security efforts.
Both share a similar goal, he said, which is "to free Sinai society communities from the clutches of terrorists".
Building a better life
Sinai residents have demonstrated their solidarity with the security forces, Sabri said, and have been receptive to the efforts of moderate religious institutions.
Some national campaigns being conducted in Sinai also have been positively received by residents of the peninsula, he said.
These include the "For Egypt" campaign, which has in recent months carried out projects such as the planting of 350,000 trees with the aim of expanding agricultural lands and increasing employment opportunities, he said.
The Central Agency for Reconstruction also is offering a range of development projects, which include home building and the provision of electricity to a number of remote areas, Sabri added.
These projects are part of the "efforts being made to help residents in those areas and/or reverse their feeling of being marginalized, to ensure they do not fall in with terrorist groups who exploit their economic situation to draw them to join their ranks", he said.