Iraq is making efforts to overcome its dependence on Iranian energy by establishing power plants that run on national gas.
The country needs about 70 million cubic feet of gas per day to operate power plants, about a third of which is currently imported from Iran.
By working to increase domestic gas production, and with the help of international partners, Baghdad hopes to eliminate gas imports that strain the state budget and achieve independence in the energy sector.
According to the Ministry of Electricity, the daily rate of electricity production has surpassed 24,000 megawatts -- the highest amount of domestically produced electricity in the country's history.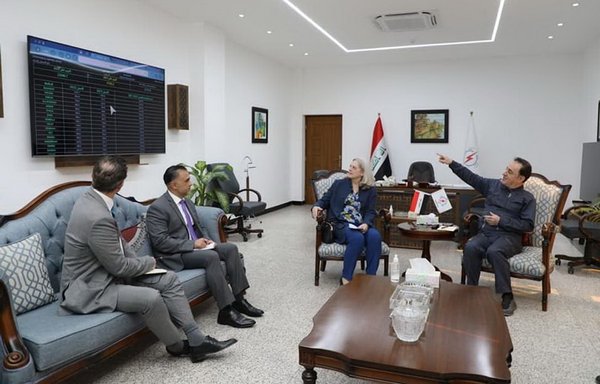 The record production level is the result of "exceptional" government efforts in developing the infrastructure of the electric power sector, ministry spokesman Ahmed al-Abadi told Al-Mashareq.
Newly installed power plants that run on imported and national gas also have become operational, he added, noting that modernisation and maintenance of Iraqi power distribution networks ensures a more stable supply to the people.
The Maysan power plant is the newest Iraqi plant to become operational. It has been active for three months, and currently supplies the country with 750 megawatts of electricity, using gas from the Maysan province gas fields.
Gas-operated power plants in Samawah, al-Nasiriyah and Samarra are already online, increasing the rate of national electricity production.
Efforts towards self-reliance
Efforts are ongoing to increase energy production, officials said, with the ultimate goal of ensuring Iraq's self-reliance for electricity needs.
Iraq needs 35,000 megawatts to overcome its electricity shortages and provide power around the clock, Minister of Electricity Adel Karim said in July.
To this end, it intends to launch new power plants, such as the Akkas plant in eastern Anbar, which will be supplied with gas from the Akkas natural gas field.
Iraq is simultaneously working to increase domestic gas production through contracts with major companies.
On October 2, the Iraqi government announced it had reached a deal with US company Baker Hughes to increase the production of gas from al-Nasiriyah and al-Gharraf oil fields in southern Iraq.
Contracts with Baker Hughes and South Gas Company would "raise the gas production ceiling by 80%", said Dhi Qar Oil Company gas investment division director Anwar Hadi Shiyaa.
This represents an increase from the current 20 million standard cubic feet to 200 million cubic feet per day, he said.
Iraq invested in the French company TotalEnergies SE last year to build a collection network and processing unit for associated gas in three oil fields in the south of the country. The project is expected to launch by 2026.
Partnership with US, Jordan
In a September 24 meeting with Electricity Minister Adel Karim, US ambassador Alina Romanowski said the United States is making efforts to co-operate with Iraq to "stabilise and increase electricity efficiency and ensure energy independence".
In 2020, the Iraqi government made sustainable energy deals with several US companies, including General Electric, Stellar Energy and Honeywell International, in contracts worth some $8 billion.
Expanding its efforts to produce energy, Iraq also has been co-operating with Jordan. The two countries agreed upon a power grid interconnection project in 2020, which was launched October 6.
According to Iraq's Ministry of Electricity, the project aims to supply 150 megawatts to Iraq in its first stage.
The amount of electricity is expected to reach 960 megawatts in later phases, through the installation of a 300-km high-capacity transmission line between the two countries.
The transmission line is known as "al-Risha al-Qaim", the ministry said, and the project is being implemented by the General Electric Company.
In an October 6 ceremony to lay the foundation stone for the project in the Iraqi-Jordanian border area, former Prime Minister Mustafa Kadhemi said Iraq is proceeding with a policy of openness and co-operation.
He also noted his government's endeavour to achieve power grid interconnection with Saudi Arabia and the Gulf states, in accordance with the July 16 Jeddah Conference Agreement.