BAGHDAD -- Iraqi security forces on Friday (June 4) forced down a microlight aircraft "from Iran" that was headed towards Kuwait with one million pills of the amphetamine-type stimulant Captagon.
Iraq's Federal Intelligence and Investigation Agency said the aircraft entered Iraqi airspace from neighbouring Iran.
Agents were alerted to the flight by a tip-off about a "homemade glider" and opened fire on the aircraft as it flew in Basra province in an area near the border with Kuwait, the agency said.
"That forced the pilot to land. He fled towards the border of a neighbouring country," the agency said in a statement.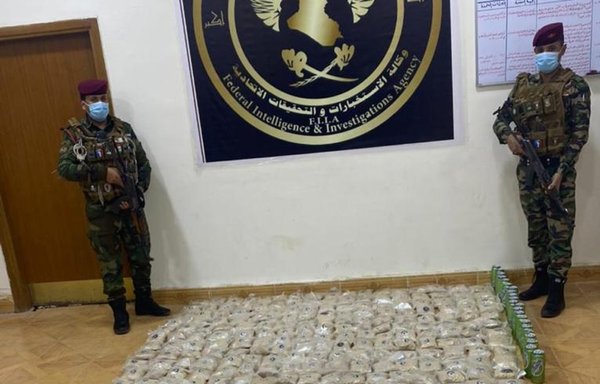 Scouring the skies of Basra province, "a joint working team was formed immediately from the intelligence agency detachments operating in Basra province and the 14th Border Guard Brigade", Iraq's Security Media Cell said.
A search for the pilot is ongoing, it said in a post on Twitter.
The Federal Intelligence and Investigation Agency said the Captagon pills recovered in a search of the aircraft were intended for sale inside Iraq.
But a senior security force officer told AFP the microlight "came from Iran" and was "headed for Kuwait" with its consignment of the highly addictive drug.
Iraq's war on drugs
"Iraq is in the midst of a drug war," Al-Monitor reported, noting that security forces have ramped up drug busts in desert areas of western Iraq near the Syrian border.
"There is considerable popular anger at drug traffickers in the country," it said.
On May 1, the Iraqi National Security Service said it had dismantled two international drug trafficking networks comprised of Iraqi and foreign nationals.
A seven-member group, which included three Iraqi nationals, confessed to taking part in drug smuggling operations and provided details of its activity.
This led to the seizure of a large narcotics storage facility near Baghdad, where 6.2 million narcotic pills were stored, the security service said.
Members of the second network -- two Iraqis and another whose nationality was not revealed -- were arrested while carrying 6kg of hashish, it added.
All 10 accused "admitted to links with international drug trafficking networks".
The sale and use of drugs in Iraq has soared in recent years. Security forces have stepped up operations and make almost daily announcements of seizures or arrests.
According to the Ministry of Interior, 5,300 people involved in drug trafficking were arrested and four million Captagon pills and 100kg of other narcotic substances were confiscated between January 1 and April 30 alone.