ERBIL -- Iran claimed responsibility for a volley of missile strikes that hit the city of Erbil in northern Iraq's Kurdish region Sunday (March 13), an attack Iraq's foreign ministry condemned as a "flagrant violation" of Iraqi sovereignty.
Iraq summoned Iranian ambassador Iraj Masjidi to protest the strikes that caused "material losses" and "damage to civilian installations and houses".
The authorities in northern Iraq said 12 ballistic missiles rained down on Erbil in the pre-dawn, cross-border attack that lightly wounded two civilians.
Iran's Islamic Revolutionary Guard Corps (IRGC) confirmed it fired the projectiles, saying the attack targeted sites used by Israel.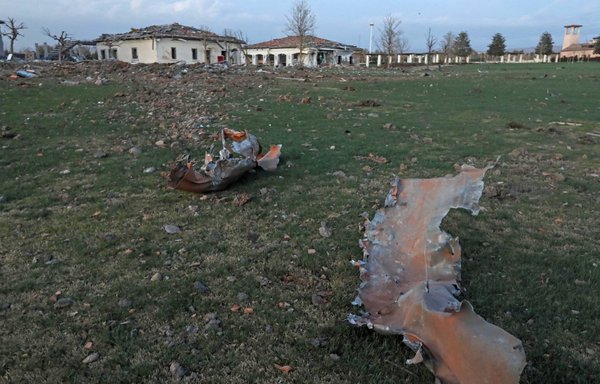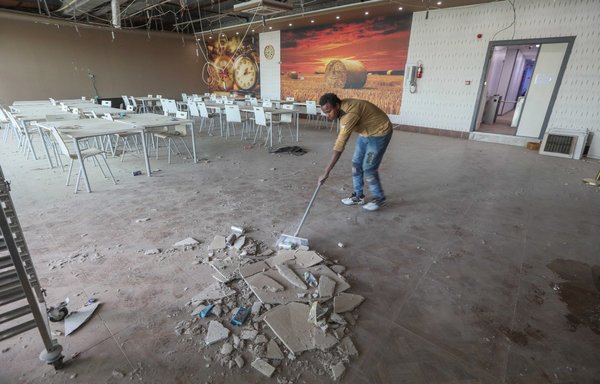 Kurdish authorities insisted Israel has no sites in or near Erbil.
Erbil governor Oumid Khouchnaw dismissed as "baseless" any notion of Israeli sites in and around Erbil, adding: "There are no Israeli sites in the region."
He said the missiles crashed into vacant lots but that buildings and homes were damaged.
One missile landed several kilometres from a new US consulate compound that remains under construction, while another landed close to the Kurdistan24 television news channel studio, according to the Washington Post.
Widespread condemnation
Iraqi President Barham Saleh condemned the "terrorist" attack on Twitter, saying the timing was "suspicious" and aims to obstruct the constitutional process of forming a "capable government".
In a Sunday phone call with Iraqi Prime Minister Mustafa Kadhemi, US Secretary of State Antony Blinken condemned the attack and expressed solidarity with the Iraqi people.
Both agreed the attack demonstrates the need for Iraqi unity and the urgency of forming a government accountable to the Iraqi people that protects their country's territorial integrity.
US State Department spokesman Ned Price condemned the strikes as an "outrageous violation of Iraq's sovereignty", adding that the United States would "help our partners in the region defend themselves".
He said the United States "was not the intended target", adding that "most if not all of the missiles were directed at a private Iraqi Kurdish citizen's residential compound".
"Iran must immediately cease its attacks, respect Iraqi sovereignty and halt its interference in Iraq's internal affairs," he said.
The Gulf Co-operation Council also condemned the attack, with secretary general Nayef Falah Mubarak al-Hajraf expressing the bloc's solidarity with Iraq in fighting terrorism and enhancing its security and stability.
The European Union said there was "no justification for such an act of violence against the territory of a sovereign country".
Nuclear talks in limbo
Erbil taxi driver Ziryan Wazir said he was in his car when the missiles struck.
"I saw a lot of dust, then I heard a very loud noise. The windows of my car exploded, and I was injured in the face," he said, lying in a hospital bed with his head swathed in white gauze and a bloodied scar running across his cheek.
The Kurdistan Democratic Party (KDP) organised a media visit to the residence of a Kurdish oil magnate that was damaged in the attack.
Kurdistan24 television posted images on social media of its damaged offices, with collapsed ceiling sections and broken glass.
Erbil has been a regular target of drone and missile attacks that have been widely blamed on shadowy militias linked to the IRGC. This attack is unusual in that the IRGC directly claimed it.
Sunday's assault comes after negotiations between Iran and world powers to revive the 2015 nuclear deal stalled last week, despite a deal having appeared close.
The setback came after Russia said it was demanding guarantees that Western sanctions imposed on its own economy over its invasion of Ukraine would not affect Moscow's trade with Tehran.
Moscow's demand reportedly blindsided the Iranian negotiating team and made it clear that -- faced with a barrage of international sanctions -- Russia is willing to use Iran as a bargaining chip for its own economic interests, observers said.
The French foreign ministry condemned the attack in the "strongest terms" and said such actions "endanger the efforts to enable a return" to the nuclear deal.