From her home in Mosul's Old City, Widad Ibrahim prepares food to sell to small shops and restaurants with the help of other neighbourhood women who have joined her to earn money and support their families.
Ibrahim, a widow better known as "Umm Shams", told Al-Mashareq she started her enterprise shortly after the "Islamic State of Iraq and Syria" (ISIS) was ousted from the city in late 2017.
But her business got off to a rough start, she said, as many displaced residents had not yet returned. Many of their homes were destroyed during the fighting, and only a few shops had reopened.
"Life had just begun to return to Mosul, especially on the right (west) side, albeit very slowly," she said, recalling that the houses and streets were still in ruins and shopping activity was "very weak".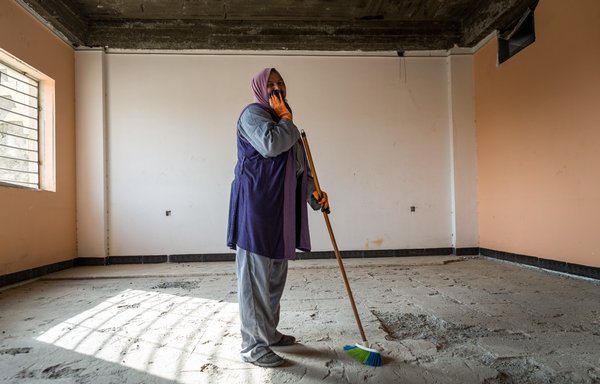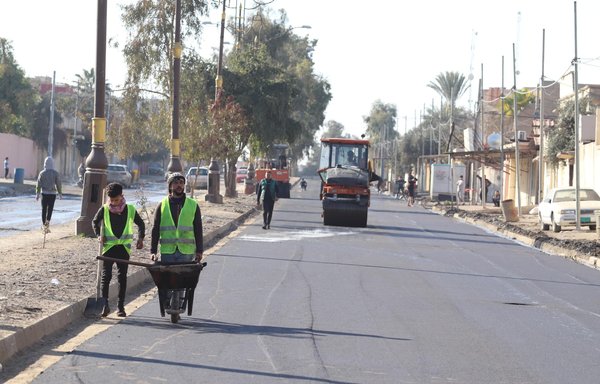 Despite these challenges, she said, "I did not give in to disappointments and was able to overcome them. Today the business provides me and my woman neighbours with a source of income that helps us meet living expenses."
Umm Shams and her workmates prepare a list of popular foods, including Kibbeh, Lahem Ba'ajin and Quzi, in addition to baked goods and sweets.
"At the start, I sold only a few plates of food, but now there are many orders for our products from shops and even small restaurants," she said.
The return of commercial activity and the restoration of public life have helped revive many small businesses in Mosul, she said, in turn opening up more jobs.
After her husband was killed by extremists in 2011, Umm Shams took on the full responsibility of caring for their four daughters.
She said she now hopes to open a small restaurant that would provide income for herself, and for other women in a similar situation.
Jobs and vocational training
Since the expulsion of ISIS, Mosul residents have been working hard to get back on their feet, with the help of local government and volunteer initiatives.
Among them is the Iraqi Women's League, which has provided jobs and vocational training to hundreds of women in Mosul and Ninawa province.
The Iraqi Women's League has been offering training courses and workshops for women for years, secretary general Samira Abed Hormuz told Al-Mashareq.
These include courses on cooking, pastry baking, sewing, hairdressing and even driving skills.
In addition to providing training, "we also provide support to women to open their small businesses, by providing material such as sewing machines and barber salon supplies", Hormuz said.
Hormuz said the organisation also provides assistance to women in marketing their products -- handicrafts, clothing and food -- in local markets.
Many of these markets have been rehabilitated, including the Nabi Yunus, Bab al-Saray and al-Zuhour markets, which are now crowded with shoppers.
Home rebuilding efforts
A number of local craftsmen have reopened their shops.
In the blacksmiths' market, Mohammed al-Naimi, who makes various tools by hand, told Al-Mashareq that he reopened his shop two years ago, after making repairs to it himself.
He resumed work as a blacksmith -- a vocation he learned from his father and grandfather -- having been forced to abandon it when he was displaced from Mosul by the extremists.
After a slow start, he said, the demand for digging tools, shovels, windows and doors increased, "and this in itself is an indication that residents are actively rebuilding their homes".
According to Ninawa's deputy governor for reconstruction affairs, Raad al-Abbasi, the local administration has more than 700 projects under way as part of the reconstruction plan for Mosul and other Ninawa cities.
These projects provide thousands of jobs for the local population in health, education and municipal services, he told Al-Mashareq.
Work is under way to open and expand streets in Mosul and rehabilitate the city's entrances and residential neighbourhoods, he said.
The Mosul municipality is implementing 220 projects related to municipal services and infrastructure reconstruction in the water and heavy water sectors.
Additionally, he said, work is continuing on the rehabilitation of the city's bridges, including the bridge parallel to the Stone Bridge and al-Falah Bridge, and a new 200-bed maternity hospital is being constructed.
Local and international help
Local and international organisations are helping Mosul residents get back on their feet, some after a period of displacement, by providing various kinds of support and assistance.
The United Nations Development Programme (UNDP) has been working to repair critical infrastructure projects by leveraging localised expertise and talent.
The US Agency for International Development (USAID) has helped to rehabilitate several service projects, including Mosul's Bab al-Sham district power plant, supplying power to homes and shops.
Women activists, including Minority Women Forum vice president Ban Najib Mikha, are meanwhile organising festivals to embrace the talents of Mosul women, with the support of the UN.
"We held exhibits in Mosul and surrounding towns to enable women, especially displaced women and ISIS survivors, to showcase their creativity in drawing and craft work," Mikha said.
Activities like this give women "the opportunity to turn the page on terrorism", she said.
"We also held workshops to raise awareness about public rights, building peace and strengthening ties among the communities of Ninawa," she added. "Next March, we will hold a peace festival in the town of Nimrud."
The Iraqi government has been working for some years to rehabilitate the ancient city of Nimrud, which ISIS turned into rubble.
Nimrud, founded in the 13th century BCE, was the capital of the Assyrian empire.