ADEN -- With inflation rising steeply in Yemen and the cost of living rapidly increasing along with it, many families have been forced to subsist on just one meal per day, with those residing in displacement camps hit especially hard.
After more than seven years of war, set in motion by the Houthis' September 2014 coup, Yemen's economy is in tatters, and many have sunk deeper into poverty in a nation that was already one of the world's poorest.
Six years ago, for example, the Yemeni riyal traded at 215 YER/US dollar. But by early December 2021, the inflation rate had soared to 1,700 YER/US dollar.
In Lahj province's al-Mashqafa displacement camp, Aisha Mustafa, a mother of five, said the decline in the value of Yemen's currency has seen her husband's monthly salary drop to about $50 from a previous $240 before the war.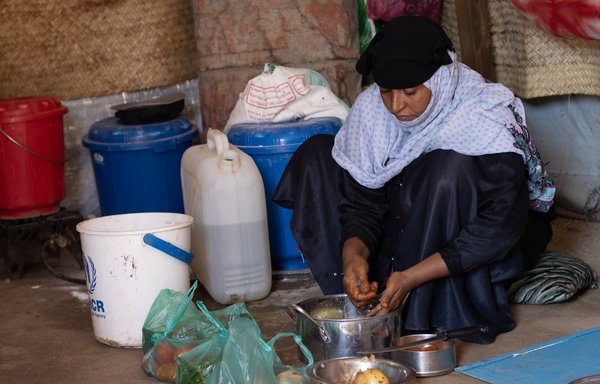 This does not even cover the family's basic expenses, she said.
Last year, Mustafa said, poverty and destitution forced her family to move from al-Hodeidah province to al-Mashqafa displacement camp.
"The salary's value decreased while prices skyrocketed, and this forced us to live in displacement camps and wait for intermittent food aid from international organisations," Mustafa said.
Meanwhile, in an Abyan province displacement camp, Fatima Jabali said she prepares just one meal a day for her family, while her children assuage their hunger by eating bread and water for the remaining hours.
Jabali said that even cooking gas is no longer available, which forces them to collect firewood daily from around the camp.
Children going hungry
In a survey published December 8, the Norwegian Refugee Council (NRC) attributed the worsening circumstances to inflation and increased cost of living.
This has forced about half of the families in southern Yemen to reduce the number of their meals, it said.
In addition to reducing the number of their meals, 99% of people interviewed said they could no longer afford to buy red meat or chicken, fruit, milk or rice.
The study interviewed 760 beneficiaries from the Taez districts of al-Silw, al-Mokha and al-Shamaytein, and the Tuban district of Lahj.
A full 97% of respondents said they were affected by the increase in food prices, while 46% said they had recently reduced the number of daily meals and 63% said they switched to firewood this year because it is less expensive than gas.
"Millions of Yemen's most vulnerable families are now caught in this torrent of despair unleashed by the warring parties," said NRC's country director in Yemen, Erin Hutchinson.
"Children have been going to bed hungry, and now they have even less food than the little they had before," she said, calling on governments, donors and international financial institutions to help avert famine.
Situation 'even worse'
NRC in Yemen media co-ordinator Jasmin Lavoie told Al-Mashareq the council has distributed cash aid to many residents of Yemen's southern provinces in recent months.
This helps people to pay rent, secure meals and buy fuel to go to work, he said, and has assisted close to 13,000 families in 2021.
But this cash aid is "just a drop in the ocean", he said. "All we are doing now is trying to stop the suffering."
"We can all do better, and to that end we need a plan, wherein the government and donors work to find a way to stabilise the currency and provide more money," Lavoie said.
Commenting on the NRC study, Executive Unit for the Management of IDP camps head Najeeb al-Saadi told Al-Mashareq that the humanitarian situation in Yemen, and in the camps in particular, is "tragic".
The economic collapse that occurred over the past three months has made the situation even worse, al-Saadi said.