ADEN -- Residents of Abyan province's al-Mahfad district in southern Yemen are calling for a renewed security effort to oust extremist elements from the area following the death of a local al-Qaeda "emir" in a traffic accident.
The so-called "emir" of al-Qaeda in al-Mahfad district, Saleh al-Samil al-Bahli, was killed May 19, along with another local al-Qaeda leader, Nasser Lakraa al-Bahli, in the Maawan area, west of al-Mahfad.
According to a senior officer in al-Mahfad's security department, who asked not to be named, the two men were killed while traveling in a civilian vehicle.
Reports circulating on social media that claim al-Bahli was killed in an ambush set up by the UAE-backed Security Belt forces are not true, the officer said.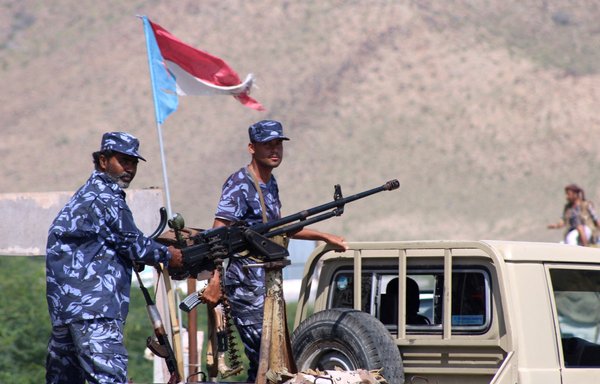 The security department's capabilities are modest, he said, and the pursuit of al-Qaeda elements requires concerted intelligence efforts and the participation of security forces and army units.
He called on Yemeni forces to resume their pursuit of al-Bahli's associates and the remaining al-Qaeda elements, who he said are trying to regroup, taking advantage of Yemen's ongoing war.
Al-Qaeda is still a threat
Regardless of how al-Bahli was killed, his death is a blow to al-Qaeda remnants in al-Mahfad who are trying to regroup, said Abaad Studies and Research Centre director Abdulsalam Mohammed.
Al-Bahli was the leader of an al-Qaeda affiliated cell, he said, which is why his death is significant. His death also came as al-Qaeda is experiencing its most challenging times since its defeat by government forces in 2012.
In recent years, Arab coalition and Yemeni forces have beaten back the group and have been able to expel it from much of Hadramaut province.
The remaining al-Qaeda elements fled into the desert, while some returned to al-Bayda mountains, adjacent to Abyan province, Mohammed said.
Al-Qaeda's presence in Abyan has been reduced to few small bands of fighters, who do not have the ability or the tools to impose control, he said.
But they are still capable of carrying out terrorist attacks, he added.
Mohammed called on Yemeni forces and their allies to conduct new tracking operations targeting al-Qaeda cells and elements in the wake of al-Bahli's death, which he said would have a direct impact on other cell members.
Awaiting a return to stability
Yemen's continuing war gives extremist elements an opportunity to regroup, recruit new fighters and look for funding sources, political analyst Mahmoud al-Taher said.
He called for unifying the military and security efforts of Yemeni and Southern Transitional Council (STC) forces, in accordance with the Riyadh agreement, and for focusing efforts on extremist elements before they resume their activity.
Abyan public sector employee Salem al-Rai said the efforts of government forces and those affiliated with the STC must be directed towards al-Qaeda.
"Abyan province residents have suffered greatly at the hands of al-Qaeda elements, and its people are still harvesting the negative fruits of the group's control over their sons, their livelihoods and their property," he said.
Abyan has been through very hard times because of al-Qaeda, al-Rai said, and its people now await the return of stability and the rebuilding of the province.