BAGHDAD -- At least 10 rockets on Wednesday (March 3) slammed into Ain al-Asad base in western Iraq, which hosts international coalition troops, leaving one civilian contractor dead, security sources said.
The rockets were Iranian-made Arash models, which are 122mm artillery rockets and heavier than those seen in similar attacks, the sources said.
The attack comes days after US forces carried out an airstrike against Kataib Hizbullah, an Iran-backed Iraqi militia stationed along the Iraqi-Syrian border, in response to previous attacks on US interests in Iraq.
It also comes just two days before a much-anticipated visit to Iraq from Pope Francis, who said he would still come so as not to "disappoint" the Iraqi people.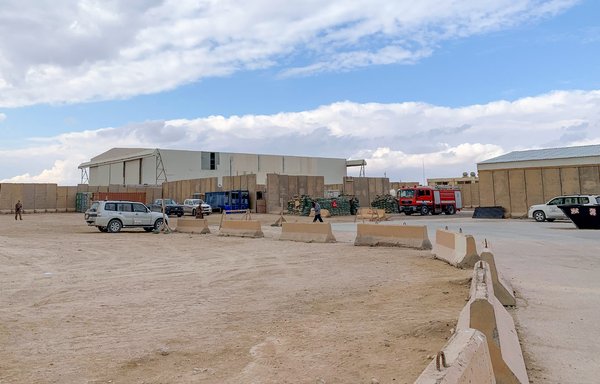 Ain al-Asad base hosts both Iraqi forces and international coalition troops fighting the "Islamic State of Iraq and Syria" (ISIS).
International coalition spokesman Col. Wayne Marotto confirmed that 10 rockets hit the base at 7:20 a.m., while Iraqi forces said they had found the platform from which 10 "Grad-type rockets" were launched.
Iraqi forces are leading the response and investigation, Marotto said.
"One civilian contractor died of a heart attack during the attack," a high-level security source said, but could not confirm the contractor's nationality.
The death marks the third fatality in rocket attacks in recent weeks, after rockets targeting international coalition troops in Erbil killed two people. Iran denied any involvement in the attack.
A shadowy group calling itself Awliyaa al-Dam (Guardians of Blood) claimed that attack. Iraqi experts say it is one of the "smokescreen" groups that deflect attention from the real perpetrators: Kataib Hizbullah, Harakat al-Nujaba and Asaib Ahl al-Haq.
Days later, more rockets hit a US military contracting company working north of the capital and the US Embassy in Baghdad, but no deaths were reported.
Iran has not denied responsibility in today's attack against Ain al-Asad base.
Papal visit to go ahead
Despite the recent violence, Pope Francis is determined to go ahead with the first-ever papal visit to Iraq, scheduled March 5-8.
"The day after tomorrow, God willing, I will go to Iraq for a three-day pilgrimage," he said in his Wednesday address. "For a long time I have wanted to meet these people who have suffered so much."
"The Iraqi people are waiting for us, they were waiting for Saint John Paul II, who was forbidden to go," he said. "One cannot disappoint a people for the second time. Let us pray that this journey will be successful."
Francis is not scheduled to visit western Iraq, but will spend time in Baghdad and Erbil.
Through the trip, the pope hopes to encourage the dwindling Christian community to remain in their ancient homeland while broadening his outreach to Islam.
On Saturday, he will hold a symbolic meeting with Iraq's top Shia cleric Ali al-Sistani at his home in Najaf, seeking to deepen his dialogue with Muslim leaders.
Two years ago in Abu Dhabi, Francis and leading Sunni cleric Sheikh Ahmed al-Tayeb, grand imam of Al-Azhar, signed a document on "human fraternity for world peace", and made a joint call for freedom of belief.