The Iran-backed Houthis (Ansarallah) deserve to be labelled as a terrorist organisation, Yemen's government said Monday (January 11), accusing them of causing the world's worst humanitarian crisis.
The crisis in Yemen has led to more than 17,500 civilians killed and injured since 2015, according to the Yemen Data Project. More than 20 million people are experiencing food insecurity and 10 million are at risk of famine, Human Rights Watch reported.
"The Houthis deserve to be designated as a foreign terrorist organisation not only for their terrorist activities but for their continuous efforts to prolong the conflict," Yemen's foreign ministry said in a statement carried in local media.
The decision to blacklist the Houthis, announced Sunday by US Secretary of State Mike Pompeo, will come into effect January 19 unless it is blocked by US Congress.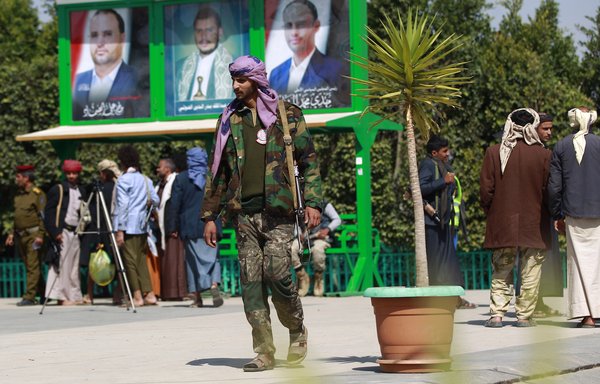 Pompeo also announced his intention to blacklist three Houthi leaders -- Abdul Malik al-Houthi, Abd al-Khaliq Badr al-Din al-Houthi, and Abdullah Yahya al Hakim -- as Specially Designated Global Terrorists.
A military court in Marib last year issued an arrest warrant for the group's leader, Abdul Malik al-Houthi, who has been on trial in absentia along with 174 other Houthis on charges that include staging a coup against the government.
The new designations aim to hold the Iran-backed group "accountable for its terrorist acts, including cross-border attacks threatening civilian populations, infrastructure and commercial shipping", Pompeo said Sunday.
The Houthis have "led a brutal campaign that has killed many people, continues to destabilise the region and denies Yemenis a peaceful solution to the conflict in their country", he said.
He pointed to a December 30 attack on an airport in Aden, which killed 26 people. Yemen's government has accused the Houthis of carrying out the attack, following the arrival of a plane carrying members of a new unity government.
Pompeo also accused the Houthis of embracing the Iranian regime.
"Rather than distance itself from the Iranian regime, it has embraced the world's leading state-sponsor of terrorism even more," he said.
"Iran's Islamic Revolutionary Guard Corps (IRGC) has supplied Ansarallah with missiles, drones and training, allowing the group to target airports and other critical infrastructure," he added.
The Houthis control much of Yemen and are already under US sanctions.
On December 10, five Houthi "security officials", including the director of the Criminal Investigation Department in Sanaa, were placed on the US blacklist for committing "serious human rights abuse".
In reaction to concerns about how the new designation may affect humanitarian aid, Pompeo insisted that the State Department was "planning to put in place measures" to reduce the impact on humanitarian work and imports into Yemen.
"We have expressed our readiness to work with relevant officials at the UN, with international and non-governmental organisations and other international donors to address these implications," he said.