Lebanon's political leaders on Monday (August 31st) designated a new prime minister, diplomat Mustapha Adib, to tackle the country's political and economic crisis.
Mustapha Adib, 48, acknowledged in a televised speech there is "a need to form a government in record time and to begin implementing reforms immediately".
He vowed to resume talks with the International Monetary Fund (IMF) for assistance to Lebanon, in the throes of its worst economic crisis since the 1975-1990 civil war and traumatised by the deadly August 4th explosion.
Adib has been Lebanon's ambassador to Germany since 2013 and his name only emerged on Sunday to replace Hassan Diab, whose government resigned in the aftermath of the Beirut port blast.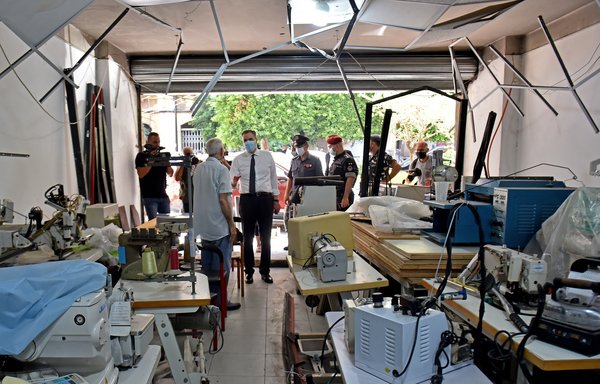 He was born in the northern city of Tripoli and is a Sunni, making him eligible to become prime minister under Lebanon's sectarian-based power-sharing system.
His biography on the Berlin embassy website presents him as an academic who holds a PhD in political science.
From 2000 to 2004, he served as an advisor to former prime minister Najib Mikati, who in 2011 appointed him as his chief of cabinet. Mikati backed his nomination on Monday.
Former prime ministers Saad al-Hariri and Fouad Siniora also threw their weight behind Adib after two other candidates were reportedly rejected by Hizbullah and its political allies.
The only major dissenting voice within the establishment came from the Lebanese Forces party which backed Nawaf Salam, an independent diplomat who also served as a judge at the International Court of Justice.
'No time'
Under multi-confessional Lebanon's political system, the premier must be a Sunni, the presidency is reserved for a Maronite Christian and the post of parliamentary speaker goes to a Shia.
Those who have taken to the streets in mass protests since October 17th against the entire political class had already rejected any name that might emerge from the parliamentary consultations.
Despite promises of change, the process of forming the new government follows the same blueprint that has chronically mired Lebanon in political deadlock.
Social media networks abounded with posts questioning whether a government formed by Adib would be any more effective than Diab's, which was formed in January but failed to lift the country out of crisis.
Hassan Sinno, a member of the Massirat Watan opposition group, said the political class's new choice for the job of prime minister would not be given the same grace period Diab enjoyed.
"We will not give him the time, like some of us made the mistake of doing for Hassan Diab," he said.
Adib's designation came hours before French President Emmanuel Macron was due to visit for a September 1st ceremony marking the country's centenary.
Macron was expected to renew his calls for a radical overhaul of the country's complex, sectarian political system.