Cemeteries in Sanaa are facing a shortage of space as the novel coronavirus (COVID-19) pandemic takes hold, driving some cemetery keepers to exhume older graves to make room for the recently deceased, observers said.
Sanaa is under the control of the Iran-backed Houthis (Ansarallah), who have been criticised for under-reporting coronavirus infections in the city and failing to make precautionary measures mandatory.
Yemen's government and international relief agencies have repeatedly asked the Houthis to disclose the number of coronavirus infections and deaths in areas they control, to unify efforts and share information, but to no avail.
Full disclosure would help with efforts to contain the virus and assist patients.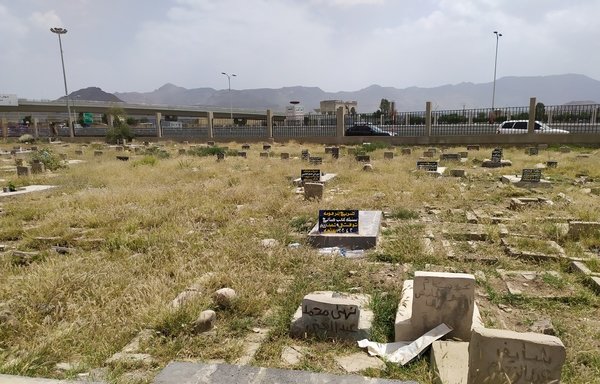 On June 4th, Information Minister Muammar al-Eryani called for the formation of an international fact-finding committee to manage the coronavirus pandemic.
"What is taking place in the hijacked capital Sanaa and areas controlled by the Houthi militia are crimes of genocide against Yemenis, who are dying silently by the hundreds every day," he said.
Were it not for periodic field reports that reveal there have been hundreds of deaths and thousands of infections, the extent of the pandemic would not be known, he said.
Surge in price of cemetery plots
Mohammed Ahmed, a gravedigger who works in a cemetery in Sanaa, said he quit his job over the transgressions of the Houthi-appointed cemetery director.
"The new diggers are exhuming old graves that have not been visited by family members in years to make space for new graves and accommodate the bodies of the newly deceased," he told Al-Mashareq.
The death toll has risen considerably, he said, with "most families" reporting they believe the deaths were from COVID-19.
"Visitors to some gravesites are finding the spaces that were designated for children's graves now have graves of older adults in their midst, and new gravesites are situated right next to old gravesites," he said.
This is indicative of poor management on the part of cemetery managers and gravediggers, who are being paid many times the usual fee by the families of the newly deceased, he said.
This goes against a Ministry of Endowments directive instructing that grave prices not be hiked, Ahmed said.
"The closure of some cemeteries and the recent rise in the number of fatalities has led to a surge in the prices of new graves," he said.
The price for a cemetery plot has doubled to 100,000 Yemeni riyals ($400) in some cemeteries, and has even risen to 160,000 riyals ($640) in others, such as al-Sheikh al-Ahmar cemetery, he said.
Sanaa's cemeteries are full
Sanaa public sector employee Abdul Aziz Ali told Al-Mashareq that when his wife died in early June, he was not able to find her a gravesite in cemeteries near the city's al-Sabeen district.
"My wife's relatives know an official at a cemetery in eastern Sanaa who arranged for a grave for my wife, but the burial was delayed a full day until that grave was found," he said.
Ali said his wife "suffered from heart disease but was stable, then died suddenly". He said he suspects she died of COVID-19, but has not been able to confirm the cause of death.
Abdul-Jabbar Ahmed, a resident of the Dar Salm district in southern Sanaa, said "the cemetery was full almost two years ago, and a lot adjacent to it allocated by philanthropists for a cemetery was also full, as of May".
"This drove the manager of the old cemetery to open it, after gathering the old remains in one grave to create space for new graves," he said.
"Coronavirus deaths in Sanaa saw a noticeable jump," political analyst Faisal Ahmed told Al-Mashareq, noting that disinfection teams are disinfecting districts across the city on an ongoing basis.
"[Two] families announced the death of four of their members from the coronavirus [COVID-19] on consecutive days, which underscores the extent of the pandemic," he said.
While a number of political and media figures in Sanaa announced they were infected with the coronavirus, Ahmed said, after their death the Houthis prevented their families as well as health workers from disclosing this.
This was done under the threat of reprisals, he said.