A joint US Navy and Marine Corps military training exercise around two Saudi islands in the Arabian Gulf demonstrates the continued US commitment to supporting its allies and deterring the Iranian threat, military sources said.
The recent sustainment training exercise in the waters around Karan and Kurayn islands kicked off on April 20th, with the goal of enhancing the ability of the participating forces to support mobile response forces.
Participating in the drill were the 26th Marine Expeditionary Unit (MEU) and the US Navy's Bataan Amphibious Ready Group (BATARG).
In the military context, sustainment involves the provision of manpower and logistical support to maintain and prolong operations or combat.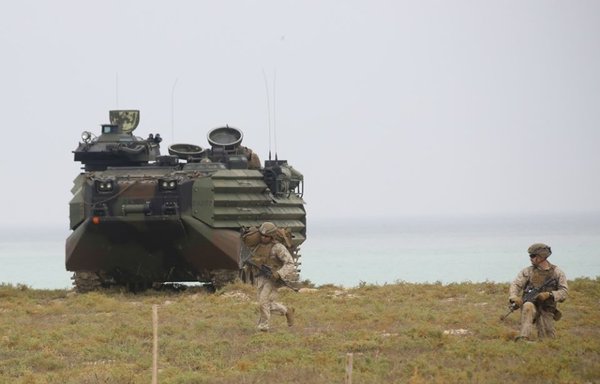 "The sustainment training on Karan and Kurayn islands not only increases the MEU's readiness but also reassures our regional partners that we stand ready to defend and deter aggression," said 26th MEU commanding officer Col. Trevor Hall.
"This important island training provides our Navy-Marine Corps team an integrated ship-to-shore combat capability and further enhances our readiness to carry out any mission as a premier crisis response team in the US 5th Fleet area of operations," said Capt. Lance Lesher, commodore of the BATARG.
"This training also illustrates our strong defence relationship with Saudi Arabia, and our continued commitment to the security and stability of the region," he said.
Countering Iranian interference
"The recent exercises... are some of the most important exercises taking place in the region to counter any threat that might result from Iranian interference," said Saudi military expert Mansour al-Shehri.
The islands lie off the coast of Saudi Arabia in the Arabian Gulf and are "definitely targets for Iranian threats", he told Al-Mashareq.
The location of the training "conveys powerful strategic implications and messages" for Iran's Islamic Revolutionary Guard Corps (IRGC), he said.
Though the two islands are small, he said, they are "located off the coast of Saudi Arabia's Eastern Region, where IRGC-affiliated groups have tried and continue to try to carry out provocative acts and attacks on security personnel".
The islands also serve as "forward observation posts against any Iranian incursion attempt by land or sea", al-Shehri said.
The decision to carry out military training exercises on Karan and Kurayn islands can be seen as "a strong warning" to Iran "to stop its provocative actions", he said.
Iranian propaganda 'laughable'
"It is laughable and sad at the same time that Iranian leaders are issuing statements claiming that they are kicking US forces out of the Middle East," said political researcher Abdul Nabi Bakkar.
On the contrary, he told Al-Mashareq, "the cohesion of US land, air and naval forces is serving as the first wall of defence against any Iranian incursion and limiting the capabilities of its militias".
"The US policy of self-restraint, adopted to avoid dragging the region into war, is being used by the IRGC's media machine to distort the facts and spread lies," he he said.
"The most appropriate response to the Iranian propaganda is the conduct of periodic training exercises in the region, be they joint exercises by different US military units or by US and allied forces in the Middle East and Arabian Gulf," he said.
These exercises also serve as "a direct response to the incessant Iranian threats", he said, noting that "the deterrent force is ready to deal with any adventure the IRGC may embark on to implement its plans in the region".
Ensuring operational success
Maritime borders in the Gulf region "are thousands of kilometres long" which makes them vulnerable to breaches and attacks by the IRGC, said Abdullah al-Ameri, a retired Emirati army officer.
"It is impossible to deploy forces to guard them all, at all times," he told Al-Mashareq. "At the same time, they are under close surveillance by air and ground surveillance teams, as well as radars to detect hostile activity."
"Any positive identification triggers rapid military intervention, not only by land but also by sea, and this is essentially handled by amphibious forces that can move [ashore] by sea to take part in ground military operations," he said.
"These forces undergo special training that enables them to execute [their operations] with speed and precision," al-Ameri added.
"Because these special teams require logistical support from naval units in the region -- the US 5th Fleet specifically -- the training is essential to ensure missions are executed with precision and successfully," he said.
Iran tries to display its military strength by deploying its speedboats to "harass US vessels and give a false impression to the world that its forces can move quickly, establish position and control any area", he said.
"But the US amphibious forces have exposed these lies," he said, adding that the Iranian forces "now appear like small toys and amusement devices next to real power".