The Wagner Group -- a group of mercenaries who work at the behest of Russian President Vladimir Putin -- is co-ordinating a massive recruitment effort of Syria youths to fight as mercenaries in Libya, a number of Arab media outlets have reported.
A political party supported by the Syrian regime of Bashar al-Assad, with the help of the Wagner Group, has been recruiting young Syrians as mercenaries and sending them to fight in Libya, Sweida24 news website reported last month.
The news outlet reported that it was in the possession of a number of audio recordings and texts involving an official in the Syrian National Youth Party in Sweida, a province in Syria.
In those recordings, the official calls for youth to sign up to serve in a military capacity under the supervision of Wagner Group, offering monthly salaries in Libya of "$1,000 for those who volunteer to guard the installations, and $1,500 for those who volunteer in fighting groups; in addition to additional compensation for the families in case they are get killed or go missing in action".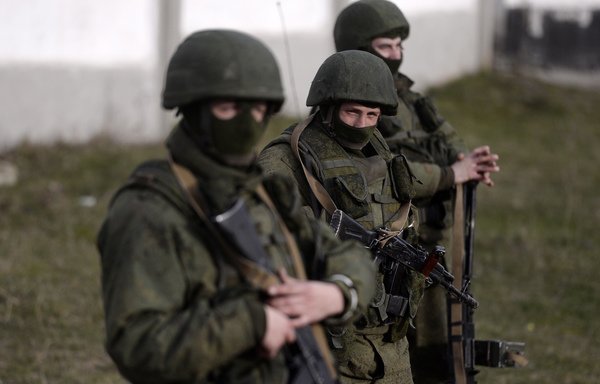 The reported monthly salary of regular Syrian soldiers is about $30, and the monthly salary of a volunteer in the one of the various regime-linked militias -- some of which are supported by Iran's Islamic Revolutionary Guard Corps (IRGC) -- ranges between $50 and $100.
The mercenaries are being sent to support the forces of Marshal Khalifa Haftar, which has Moscow's support, the report said.
The Syrian National Youth Party had been involved in recruiting Syrian nationals into armed militias since 2014.
The Kremlin has employed the Wagner Group to do Putin's dirty work in numerous conflict zones.
The mercenary force has meddled in Ukraine and helped annex Crimea illegally -- using mask-wearing mercenary "volunteers" to create instability, as well as supporting the war crimes of the Syrian regime.
'Russia's Friends'
The Russian army has started recruiting youths from Douma, a suburb in eastern Damascus, said Al-Sharq al-Awsat, a prominent Arabic media outlet published from London, on February 14th.
Under an organisation called "Russia's Friends", personnel affiliated with Russian and Syrian intelligence agencies are transferring these youths to fight for Haftar by enticing them with large monetary rewards.
Members of the so-called "Russia's Friends" have received military identification cards from Russia's Khmeimim military base in Syria, according to the report.
Russian aircraft are transferring members of the Wagner Group and military equipment from the Khmeimim Base to Benghazi, Libya, a number of observers reported.
Officially, more than 60,000 Russian servicemen have passed through Syria during the campaign, including soldiers, sailors and pilots who at the peak of a bombing campaign were carrying out more than 100 sorties per day.
Hundreds of private Russian military contractors -- including many members of the Wagner Group -- are believed to have operated in Syria, with reports of them serving on the front line alongside pro-regime troops.
A history of meddling
Wagner was set up by former Russian military intelligence officer Dmitry Utkin, who was part of the first convoy of Russian mercenaries sent in autumn 2013 to Syria.
But their ill-equipped mission ended in a fiasco. They engaged in some combat but rapidly returned to Russia, where two backers of the scheme spent three years in prison for mercenary activities.
In June 2014, Utkin joined the ranks of pro-Russian separatist forces in eastern Ukraine -- the Wagner Group's birthplace, according to official reports from Ukraine.
That same year, Russian forces invaded Ukraine and annexed Crimea, where thousands of Russian troops remain stationed.
Utkin resurfaced in Syria in autumn 2015, when Russian troops intervened in support of the al-Assad regime, a Kremlin ally.
In December 2016, he appeared at a televised ceremony held in the Kremlin to honour "the Heroes of the Fatherland" and was the same day photographed alongside Putin.
In 2018, US troops and their allies in Syria came under attack by hundreds of fighters loyal to the Syrian regime near Deir Ezzor. US forces responded, killing as many as 200 members of the Wagner Group.