Saudi Arabia's King Salman has announced a nationwide dusk-to-dawn curfew from Monday (March 23rd) in a bid to limit the spread of novel coronavirus (COVID-19), as other countries in the region take additional measures.
The curfew, from 7 p.m. until 6 a.m., will be imposed for 21 days, the Saudi Press Agency reported. Health sector employees as well as security and military officials will be exempt from the curfew restrictions.
The kingdom on Monday reported the number of COVID-19 cases had jumped to 562, the highest in the Gulf. It has reported no deaths so far.
Saudi Arabia previously suspended prayers inside all its mosques except the holiest two sites in Mecca and Medina.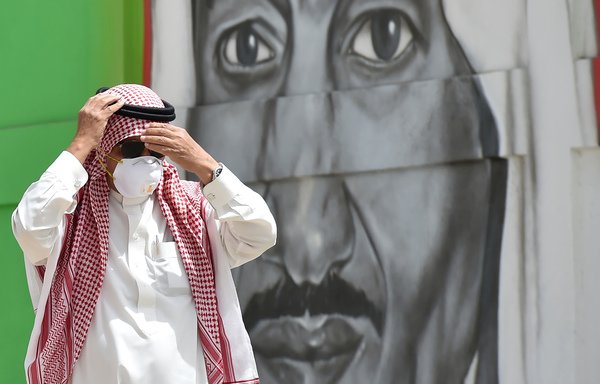 In Iran -- where the official death toll stands at more than 1,800 and over 23,000 confirmed cases -- authorities have closed four key religious sites.
And in Lebanon, some churches have begun broadcasting the Sunday mass live on social media.
In the UAE, malls will shut down for two weeks under a plan to curb coronavirus, and airports will be closed to passenger and transit flights.
The decision to close commercial centres includes shopping centres as well as fresh food markets, but pharmacies and food retail outlets will be allowed to stay open. Restaurants are limited to home deliveries.
The health ministry and the disaster management authority on Monday said the move would come into force within 48 hours and last "for a renewable period of two weeks".
The UAE on Friday announced its first two deaths from COVID-19, having reported more than 190 cases so far.
Organisers of the Expo 2020 global trade fair, set to launch in Dubai in October, said Sunday they will "reassess and adjust" preparations due to the outbreak.
Egypt toll includes military officers
Egypt on Monday announced that a second senior military officer has died of coronavirus, as the officially declared death toll stood at 14 from 327 cases recorded nationwide.
Maj. Gen. Shafee Dawood, head of major infrastructure projects at the military engineering authority, became the latest high-ranking figure in Egypt to die from COVID-19 in hospital.
His death comes after Maj. Gen. Khaled Shaltout, the army's chief of water management, died from the virus late Sunday.
State television said Shaltout contracted COVID-19 after having taken part in "sterilisation" procedures to stave off the virus.
Other high-ranking military officials also have been confirmed to have tested positive for the disease, security sources said.
President Abdel Fattah al-Sisi on Sunday urged Egyptians to comply with the government measures and stay at home for at least two weeks as a precaution.
Egyptian authorities have imposed tough measures to limit social interaction, closing schools and universities and ordering cafes, restaurants, nightclubs, sporting clubs and malls to close by 7 p.m., among other measures.
Egypt on Thursday halted air traffic until the end of March. And on Saturday, religious authorities ordered the closure of all mosques and churches and banned communal prayer gatherings for at least two weeks.