Yemeni forces, backed by Arab coalition warplanes, have launched a large-scale military operation to wrest control of Marib province's Sirwah district from the Iran-backed Houthis (Ansarallah).
The fighting, which has killed dozens on both sides in recent days, comes as part of Yemeni efforts to push back on the militia following its capture of al-Hazm in the neighbouring province of al-Jawf on March 1st, and subsequent gains.
The storming of al-Hazm sparked a major wave of displacement towards Marib province, with vehicles carrying displaced residents travelling along rough terrain and desert pathways to avoid Houthi bombardment on the main road.
"The army's operation to recapture Sirwah and Mount Haylan has become a necessity at this time," said Col. Yahya Abu Hatem of the Yemeni armed forces' moral guidance department.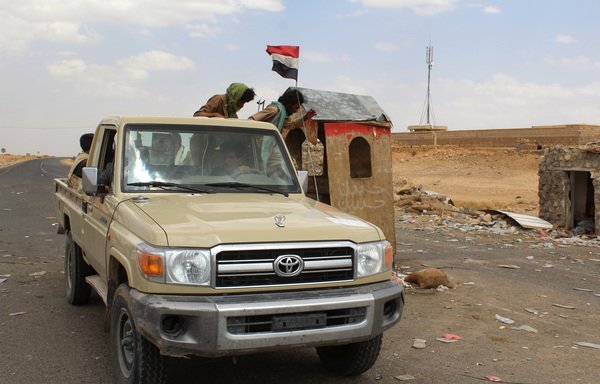 The operation aims "to secure the supply routes and roads between Marib, al-Jawf and Sanaa provinces, and also to secure military units stationed in al-Mashjah, al-Makhdra and Sirwah", he said.
"The recapture of Mount Haylan is aimed at securing Marib against Houthis' artillery and Katyusha rocket attacks originating from that mountain," he said.
"Activating the Sirwah front also will distract Houthi forces, and they will now be forced to move assets and fighters to the newly-ignited fronts," he added.
"In this way, they will be exposed to Arab coalition warplanes," he said, noting that "artillery strikes and coalition airstrikes are targeting the Houthis' reinforcements, sent to help out on Sirwah front".
Push to recapture Sirwah
Yemeni forces have reclaimed al-Tabba al-Hamra (Red Hill), the second highest elevation after Mount Haylan, Abu Hatem said, as well as parts of Mount Haylan.
Opening more than one front, with air cover from the Arab coalition, will distract the Houthis, who already have lost hundreds of fighters in al-Jawf and Nahm, political analyst Faisal Ahmed told Al-Mashareq.
"The Houthis were planning to advance towards Marib to relieve the pressures they are facing from the national army in al-Jawf province after the army recaptured areas in 'Khabb wal Shaaf' district," he said.
The Houthis are retreating from this area, which borders Saudi Arabia, he said.
"Recapturing Sirwah will open the way for moving in two directions: Marib and Sanaa," Ahmed said. The goal of capturing Mount Haylan "is to have fire control over vast swathes of Sirwah in the direction of Sanaa and Marib".
During a Saturday (March 7th) meeting with the Marib governor and other senior officials in the province, UN Yemen envoy Martin Griffiths reiterated his call for a freeze on military activities.
"Last week, I issued a public call for a freeze on military activities. Today, I am reiterating that call for an immediate and unconditional freeze and the start of a comprehensive and inclusive and accountable de-escalation process," he said.
He underscored the UN position that the conflict cannot be solved on the battlefield.