The Arab coalition on Sunday (March 8th) targeted six military locations the Iran-backed Houthis (Ansarallah) had been using to assemble and launch booby-trapped remote-controlled boats and sea mines, a coalition spokesman said.
"The coalition's Joint Command at dawn Sunday carried out a high-level operation in Salif district" in western Yemen, said coalition spokesman Col. Turki al-Maliki.
The Houthis' activity at these sites posed a threat to international trade and shipping lanes and to international and regional security, he said in a statement carried by the Saudi Press Agency (SPA).
"The destroyed targets include six locations for assembling and launching booby-trapped remotely-controlled boats and sea mines," al-Maliki.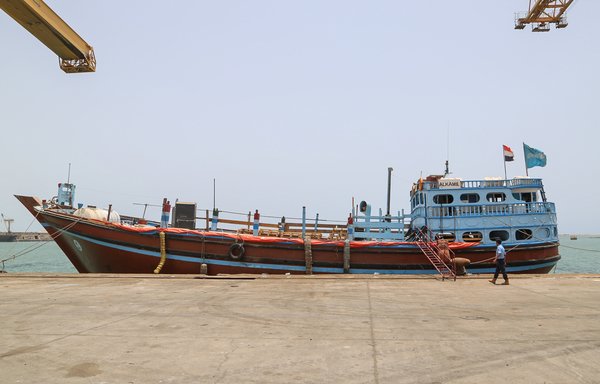 "The Houthis were using these locations to carry out hostile and terrorist operations that threaten shipping lanes and international trade in Bab al-Mandeb strait and the southern Red Sea," he said.
In conducting the operation, the Arab coalition took "precautionary measures to protect civilians and UN and non-governmental organisations sites, which are located 2.1 kilometres away from the targeted locations", he said.
"The coalition will proceed with its military operations against legitimate military targets, but at the same time will continue to support all political efforts to implement the Stockholm Agreement and end the coup," al-Maliki said.
Response to Houthis' attacks
The Arab coalition's operation came after a series of attacks carried out by the Houthis in the Red Sea and Bab al-Mandeb targeting oil tankers and other vessels, political analyst Faisal Ahmed told Al-Mashareq.
He said it was likely that attacks of this nature would continue despite the coalition's operation, "because Iran continues to smuggle weapons, explosives and drones to the Houthis via al-Hodeidah and Salif ports".
"The Stockholm Agreement, which was signed about 14 months ago, gave the Houthis a chance to regroup and use al-Hodeidah and its ports, including Salif, to implement Iran's agenda in the region," he said.
The militia has used these areas as launchpads for military operations that target Saudi Arabia and threaten international navigation and trade, he added.
"Workshops for assembling and launching booby-trapped remotely-operated boats and sea mines are located throughout al-Hodeidah and Salif," he said.
"The targeted locations are two kilometres away from residential neighbourhoods," he said, noting that "the Houthis' strategy is to place these workshops in residential neighbourhoods".
This means they cannot be targeted for fear of civilian casualties, he said.
"The coalition must step up its reconnaissance operations and monitor sea routes to stop the smuggling of Iranian weapons to the Houthis," he said.