Iran's Islamic Revolutionary Guard Corps (IRGC) has been goading British Royal Navy ships in Gulf waters through an escalating campaign of unprofessional interactions that appear to be intended to provoke a response, experts said.
On July 31st, AFP reported, the commander of a British warship accompanying British-flagged ships through the Strait of Hormuz said Tehran appeared to be testing the Royal Navy's resolve.
At the time, HMS Montrose commander William King said during 27 days patrolling the entrance to the Gulf he had 85 "interactions with Iranian forces", which had often led to "an exchange of warnings" over radio.
"That gives you some idea of the intensity," he told BBC Radio from aboard the frigate, which is "perhaps more than we have seen of recent times".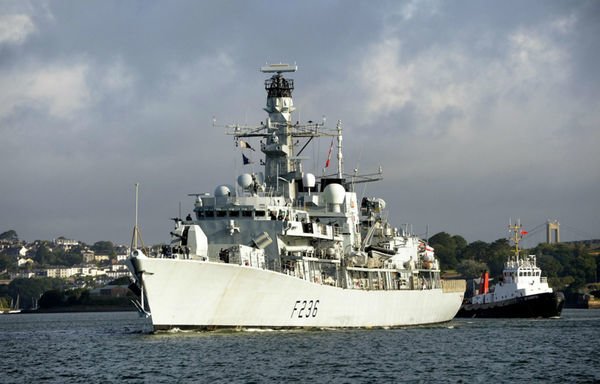 "The Iranians seem to be keen to test our resolve, test our reactions most of the time," he said. "They will claim that perhaps our presence is illegitimate, even though we are completely lawfully in international waters."
"They may also run boats in at speed towards us, to test what warning levels we get to," he added.
New figures show Iranian forces have confronted HMS Montrose 115 times since July 19th, when the Stena Impero was seized, Britain's Daily Mail reported September 1st.
Such is the frequency of Iranian confrontations in the Gulf that Royal Navy officers speak to their counterparts around 10 times a day, the Daily Mail said.
Responding to Iranian provocations
Britain has been engaged in ongoing diplomatic efforts to ease tension in Gulf waters and prevent ships passing through the region from being harassed by Iranian boats, Iranian affairs researcher Fathi al-Sayed told Al-Mashareq.
"But the Iranian side has continually responded with more harassment and provocative actions," he said, in what appears to be an attempt to portray itself as the victim of an international campaign.
The British have been very disciplined in their response to Iranian provocations, he said, with media reports indicating they have successfully escorted more than 50 ships through Gulf waters since July 19th.
The Royal Navy has responded to the IRGC's maritime provocations by issuing warnings to the Iranian boats, military expert Talaat Moussa told Al-Mashareq.
These warnings have been heeded and Iranian boats have withdrawn, he said, commending the British officers in charge for succeeding in "establishing calm without resorting to actual force".
The UK takes the Iranian threats very seriously, Moussa said, and has reinforced its naval force in the Gulf with a second frigate, HMS Duncan, which has arrived to support HMS Montrose.
HMS Montrose had been scheduled to be rotated out for maintenance, he said, but this was postponed to "shore up existing capabilities and send a firm message to the Iranian navy to stop its transgressions".
The IRGC relies on small and medium-sized boats to carry out these provocative actions, and while it has a considerable fleet, it lacks any significant technological advances that would enable it to match the British navy, he said.
"The Iranian actions in the Gulf waters are more like the actions of pirate boats and not the actions of a naval force," Moussa said.
Escorting commercial vessels
"The British naval forces are in the Gulf region within the framework of understandings reached with the countries of the region," Emirati military expert Abdullah al-Ameri told Al-Mashareq.
British ships operate in full co-ordination with the international coalition, he said, adding that "they are confined to international waters, where they support and escort commercial vessels and oil tankers".
This probably does not sit well with the IRGC, he said.
"Following the seizure of the British oil tanker Stena Impero, the tone of [the warnings issued by] the British naval forces has grown more rigorous whenever Iranian naval vessels are present," al-Ameri said.
Matters have escalated to the point that warning whistles are sometimes blown five times in succession, he said.
The Royal Navy, particularly HMS Montrose, is doing outstanding work and has safely escorted more than 50 commercial vessels through Gulf waters, he said.