Jordan and the US are working closely to address shared security threats, conducting the Eager Lion 2019 military exercise that kicked off August 25th and continues till September 5th.
Jordan is hosting 30 partner nations for Eager Lion 2019, which is the largest participation to date, according to US Army Captain Erin Hilt.
In previous years, the annual exercise has seen the participation of 18 countries and 15,000 participants, including 8,000 US soldiers, a Jordanian official said.
"It is a large-scale international training exercise that takes place in Jordan, giving an opportunity for the kingdom's friends and allies from across the globe to participate as a unified front in training," Hilt told Al-Mashareq.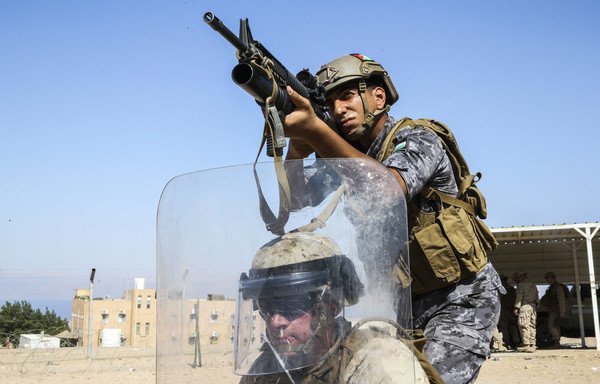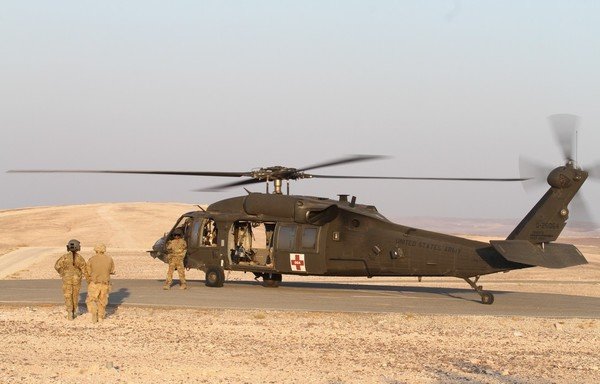 The "operationally-focused, multi-lateral" drill is hosted by the Jordanian Armed Forces (JAF) with co-ordinated support from US personnel, Hilt said.
It focuses on the "integration of partner forces in an irregular warfare-based scenario, emphasizing near peer threats, counter terrorism, integration of Air Missile Defence, border security and maritime operations", she said.
Border security
Border security has been a big part of Eager Lion 2019, a military source told Al-Mashareq.
The JAF "have continuously worked on developing and modernising their equipment to protect the border from illegal intrusion and prevent infiltration and smuggling operations", the source said.
"The forces are an exemplary model in management, training and armament as characterised by their ability and high combat efficiency," he said.
They stand ready day and night to protect Jordan and its citizens, he said, despite the rough and complex terrain and tough environmental conditions in some border areas.
The JAF have an integrated security system in terms of military forces, equipment and capabilities that allows them to activate the rules of engagement and deal with any threat as soon as it occurs, the source said.
This is in addition to the surveillance towers that are connected to control rooms that help defend the borders from any threat, he added.
Medical evacuations
Jordanian and US soldiers also partnered together in Eager Lion 2019 to conduct medical evacuation drills for the first time with a US Army Reserve aviation asset in August.
The first day began with group instruction that outlined basic procedures and hand signals that would be used throughout the medical evacuation training.
This was followed by Jordanian soldiers reacting to contact, sustaining casualties, providing initial medical care and then calling for a medical evacuation.
For many of the JAF soldiers this was their first opportunity to work medical evacuations with an American helicopter crew.
Meeting defence requirements
Eager Lion is designed to address strategic changes on the regional and international level, Jordanian Special Communications Commission director Brig. Gen. Hisham Khreisat told Al-Mashareq.
It aims to meet the defence requirements of all participating countries, and to ensure the readiness of the JAF, he said.
The exercise presents a "great opportunity for the JAF to test operational defence capabilities in different circumstances", he noted.
These include combating terrorism, maintaining border and maritime security, responding to disasters and providing humanitarian assistance, he said.
Eager Lion is considered "one of the most important exercises in the region, due to the number of activities, plans and studies that are carried out and the exchange of military experience among the participants", Khreisat said.
It includes ground, air and naval drills and training on how to deal with chemical attacks and how to intervene to secure chemical weapons sites, he said.
It also includes F-35 fighter jet training, he said, as well as testing the effective deployment of the Patriot surface-to-air missile (SAM) system.
The joint exercise seeks to meet "the operational, training and logistical requirements of the participating forces, with a focus on civilian and military operations and humanitarian role", he said.
It also involves training on ways to co-operate and co-ordinate with governmental and non-governmental institutions and international organisations, Khreisat said.
This is in addition to exchanging lessons learned from modern warfare and the nature of non-traditional threats that face international security, he said.
'Enhancement of partnerships'
Eager Lion scenarios range from complex conventional warfare and special operations integration to robust information operations, Hilt said, and include land, air and sea-based tests of military power.
The objectives of the exercise include the "enhancement of Jordanian, US and coalition partnerships" and the military co-ordination between them, she said.
The border and maritime security components are designed to develop interagency capacity to respond to security threats and internal crises, Hilt said.
The training also is expected to "increase information operations and strategic communications effectiveness and capacity, and enhance joint force readiness", she added.
All partners involved in Eager Lion 2019 will "demonstrate their ability to expertly deploy to any corner of the globe in full force, in order to support each other in such a diverse and demanding environment", she said.
Participants face a "challenging and complex scenario" this year, she said, as the exercise includes missions set against violent extremist groups, state-actor opponents and daunting geographic terrain.
"There are very real threats facing the region," Hilt said, stressing that "Jordan's security, and the security of our partners, have always been our priority".
These include threats to navigation in international waters and the apparent loss of control by some state actors of proxy groups operating on their behalf, she said, which "jeopardise the safety and security of our friends and allies".
Eager Lion 2019 integrates "robust and creative mitigations against the threat of ballistic missiles, maritime warfare, rogue militia groups, state actors, and whatever else comes our way", she said.