The Iran-backed Houthis (Ansarallah) have been using their media channel to exaggerate their military prowess with the goal of mobilising supporters to join their ranks, officials and observers told Al-Mashareq.
In an August 13th report, the Houthis' Al-Masira television channel claimed the militia had carried out several attacks with Qasef-2K unmanned aerial vehicles (UAVs) against Abha International Airport in Saudi Arabia's Asir province.
The Arab coalition swiftly refuted the report, saying it was categorically false.
What actually happened, Arab coalition spokesman Col. Turki al-Maliki said, is that the Houthis had launched a booby-trapped UAV that morning from Sanaa, which subsequently crashed in north-west Yemen's Amran province.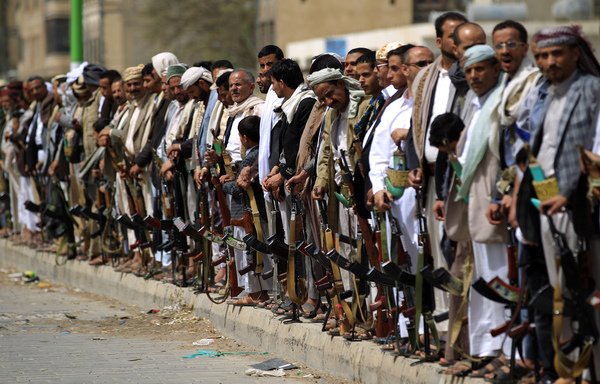 The UAV crashed within 35 kilometres of its launch point, "hitting civilians", al-Maliki said in a statement.
The Arab coalition command continues to take "strict and deterrent measures to neutralise and destroy these ballistic capabilities to protect civilians in the Yemeni interior as well as regional and international security", he added.
The hand of Iran
The Arab coalition has previously acknowledged Houthi attacks against Saudi targets, which gives veracity to its denial of the August 13th attack, Yemen's Deputy Minister of Human Rights Nabil Abdul-Hafeez told Al-Mashareq.
Iran has had a strong hand in establishing both the media and intelligence apparatus of the Houthis, he said, noting that the Houthis had not been operating with this level of sophistication on their own.
While the Houthis' coverage has included falsified or exaggerated reports, he said, this strategy has become less effective as it has become easier to discredit untruthful reports "in view of the emergence of modern and social media".
It is harder for the Houthis to stand by fraudulent reports when they are refuted by photo and video evidence, Abdul-Hafeez said, adding that continuing to produce such reports regardless "is proof of the bankruptcy of this group".
In areas under the control of the Houthis, he said, "they impose a media blackout and shut down any media outlet of any kind if it does not stand with them, and they harass journalists to obscure facts and disseminate their lies".
Suppression of dissent
The Houthis have a well-documented history of exploiting the media "as a means to silence any dissenting or critical voice", Yemeni journalist Faisal Ahmed told Al-Mashareq.
"The [Arab] coalition courageously reported some of the Houthis' attacks on oil facilities deep inside Saudi Arabia, even though doing so would have adverse economic effects," he noted.
But the Houthis have exploited this acknowledgement of previous attacks to "boast of other alleged attacks that are fake", he said.
By falsely claiming their forces are advancing into Saudi territory or targeting the kingdom's vital facilities, the Houthis seek to influence the public and mobilise their supporters, political analyst Waddah al-Jalil told Al-Mashareq.
"These lies rattle the convictions of those who oppose the Houthis' power, and the group appears to them to be a force that is difficult to challenge," he said.
The Houthis' goal is to demoralise their opponents, he added, pointing out that "this is a tactic used by all repressive authorities and extremist groups".
By using its media outlets to influence public opinion, he said, the Houthis aim to "motivate their supporters to join the militia and fight in its ranks".