Youth and civil society initiatives have stepped up their efforts during the last 10 days of Ramadan to distribute clothes to the children of poor and displaced families for Eid al-Fitr.
These community-sponsored initiatives are working across different ethnic, tribal, religious and cultural divides in Yemen to bring joy to children whose families are going through difficult times due to the ongoing war and whose suffering is compounded by harsh economic circumstances and rising prices in local markets.
Huda al-Sarabi is leading an initiative in the city of Ibb to provide Eid clothes to children in the city and surrounding villages.
She is working in co-operation with a number of youth in those villages who are helping the initiative to identify and reach families in need.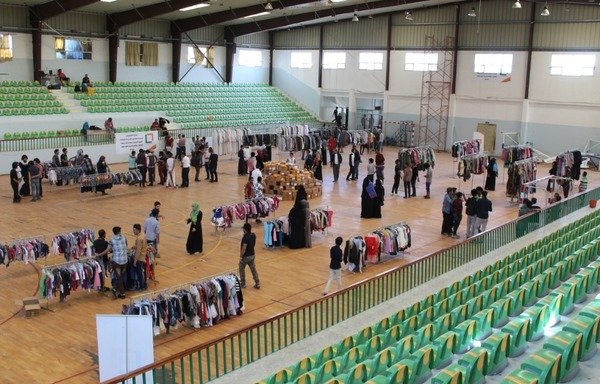 Al-Sarabi told Al-Mashareq that she conceived the idea for the initiative when she and her daughter were shopping for Eid clothes and a little girl walked up to her and asked her to buy her a dress.
"When I returned home, I presented the idea to my family, some expatriates... and a number of [local] figures," she said. "I also presented it to some youth who responded with enthusiasm with regard to collecting donated clothes and identifying poor and needy families in nearby villages and the district in which we live in the city of Ibb."
The initiative reached more than 4,000 children, al-Sarabi said.
"Solidarity is required, especially in bringing joy to children on the day of Eid amid the difficult circumstances Yemenis are going through," she said.
Donations across the country
In Sanaa, many initiatives have taken flight, including the Charitable Clothes Bank sponsored by the Kal-Bunyan initiative.
"Youth volunteers are collecting, cleaning and restoring clothes to like-new condition to distribute them to poor families to make their children happy," said Ammar Ghazi of the Kal-Bunyan initiative.
The Damt Charity Foundation is also working to provide Eid clothes to needy families in Damt district, al-Daleh province.
"The Eid clothes project aims to provide clothes to 100 poor families in the district and nearby villages," Akram al-Ghuwaizi, head of the foundation, told Al-Mashareq.
He added that the foundation is collecting donations to finance the project from expatriates who are native to the region and through personal efforts.
The foundation opted to give families 5,000 riyals ($20) per child to buy clothes.
"The foundation has multiple projects running during the month of Ramadan, including the charitable bakery, the distribution of food baskets, the distribution of a quarter of a chicken daily, as well as the distribution of Eid clothes," he said.
Mohammed al-Hashemi, secretary general of the Across Yemen organisation, said his organisation is distributing Eid clothes to cancer patients.
"We reached 100 patients, divided equally between the Kuwait and al-Joumhouri hospitals, with funds raised through personal contributions and donations collected through donation boxes we set up at shopping malls in the capital Sanaa," he said.
In Abyan province, al-Tafawwuq Foundation for Orphan Care and Rehabilitation carried out an Eid clothes distribution campaign in Khanfar district. The drive provided clothing to orphans cared for by the foundation with support from a private company.
And in Zinjibar district, the al-Usra wal Tifl Foundation distributed Eid clothes to 650 orphans with support from the private sector.
Responsibility to care for the poor
Charitable activities take place during the month of Ramadan owing to the solidarity that characterises Yemeni society, according to economist Abdul Jalil Hassan.
The prevalence of Eid clothing initiatives across Yemen "reflect our compassion toward each other and also the positive response and co-operation shown by businessmen, financiers, expatriates and other donors", he told Al-Mashareq.
"This is a duty and part of their social responsibility toward the poor and displaced whose suffering is increasing and compounded by the continuing war and the suspension of payment of salaries for close to three years," he said.
The war in Yemen pits the Arab coalition against the Iran-backed Houthis in a conflict which has killed tens of thousands of people, many of them civilians, and triggered what the UN has called the world's worst humanitarian crisis.