US military assistance to Lebanon has significantly contributed to domestic security and border control efforts, Lebanese military experts told Al-Mashareq.
Since 2006, the US has provided more than $2.3 billion to support Lebanon's military forces with weapons and ammunition, tanks, armoured vehicles, unmanned aerial vehicles (UAVs) and other military equipment and fortifications.
"The assistance enhanced the army's capabilities in terms of both personnel [readiness] and equipment, and enabled it to achieve victories," said a military source at the Army Command, who asked to remain anonymous.
The US assistance programme is ongoing, he said, and has ensured over the years that the Lebanese army has artillery firepower, precision fire capability, a surveillance and reconnaissance system, tanks and UAVs.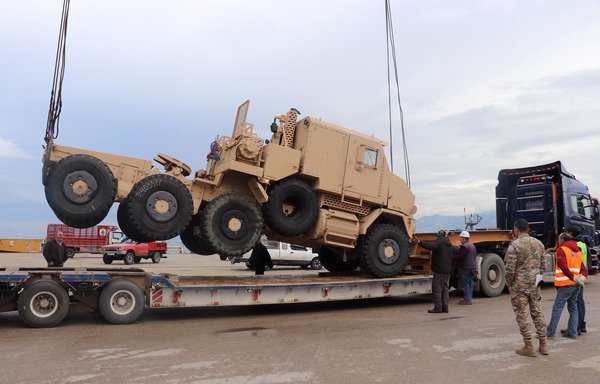 In addition to providing military equipment, US forces have provided various types of training to their Lebanese counterparts, he said.
Intensive training helped the Lebanese army's special units prepare for Operation Fajr al-Juroud (Al-Juroud Dawn) in Arsal in August 2017 "that culminated with victory over terrorism", the Army Command source said.
The operation, led by Lebanese army chief Gen. Joseph Aoun, concluded with the surrender of the "Islamic State of Iraq and Syria" (ISIS) and the group's departure from the mountainous border areas around Ras Baalbek and al-Qaa.
Impact is evident
A comparison between Fajr al-Juroud in 2017 and the army's battle against Fatah al-Islam in Nahr al-Bared camp in 2007 "reveals a tremendous upgrade in equipment, technology, competence and capabilities", the army source said.
This has been largely thanks to US assistance, he said, noting that support to the Lebanese military also has included "a number of air force assets".
The additional support enabled the army to develop a GPS protocol with the artillery forces, which it used for the first time in the Arsal operation, he said.
When Army Commander Gen. Joseph Aoun laid the foundation stone for the Special Forces training school, "he stressed its importance as one of the most important projects supported by US assistance", the source said.
Aoun received Vice Admiral James Malloy, commander of the US Naval Forces, US Central Command, in late April, with discussions between the two focusing on co-operation on training and equipping the naval forces.
A series of joint intensive training exercises will be conducted between US and Lebanese naval, air and marine commandos forces that will include troop and Special Forces transport and naval surveillance, he said.
The Army Command "attaches great importance to the training of naval forces and the in-kind assistance their units will receive to combat smuggling and provide a safe environment for oil exploration", the source added.
Land border regiments
Lebanon and the US share mutual objectives and a desire to maintain cordial relations, said Brig. Gen. Maroun Hitti, who advises Lebanese prime minister Saad al-Hariri on defence and security affairs.
"The US administration's assistance is granted on an increasing scale that corresponds to improvement in the army's capabilities," he told Al-Mashareq.
It began with the provision of transport vehicles and trucks, and now includes sophisticated defensive weaponry of all kinds.
"The US assistance programme comes in the context of its adopted policy of supporting friendly and allied countries," he said.
According to Hitti, the assistance programme for the Lebanese army is "multifaceted and covers all aspects, such as advanced training, which contributed to the establishment of the border regiments".
It has contributed to building the army's capabilities in terms of personnel readiness and equipment, he said, noting that the goal is to "establish two [additional] land border regiments to help us extend the state's authority over all of its territory".
In order to elevate the relationship and achieve defence co-ordination between the two countries, Hitti said, Lebanon needs to have a national defence strategy, which President Michel Aoun has promised to develop.