"Islamic State of Iraq and Syria" (ISIS) fighters began to leave Lebanon on Sunday (August 27th), but the discovery of the remains of eight soldiers kidnapped in 2014 meant the army's declaration of victory was bittersweet.
The ISIS surrender and retreat marked the end of the first phase of operation Fajr al-Juroud (Al-Juroud Dawn), led by Lebanese army chief Gen. Joseph Aoun in the mountainous border areas around Ras Baalbek and al-Qaa.
The eight Lebanese soldiers, who had been missing since August 2nd, 2014, were among 30 soldiers taken captive by ISIS and al-Nusra Front (ANF) following violent battles in Arsal.
Of that number, 16 were released in 2015, ANF executed four, and another died of his wounds.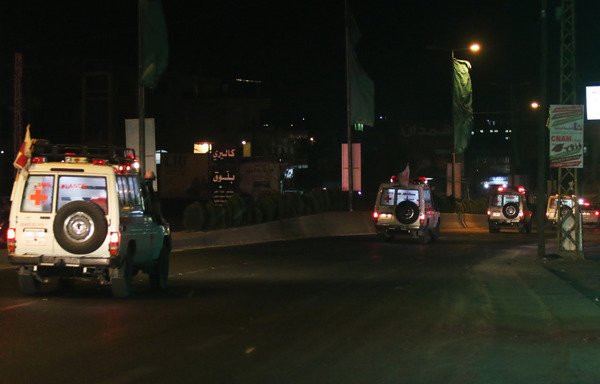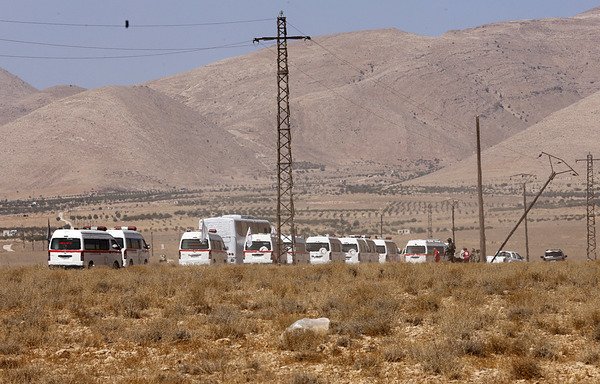 The fate of the nine soldiers kidnapped by ISIS remained unknown, until Sunday, when the bodies of eight of them were found buried in Wadi al-Debb in Lebanon, near the border. The fate of the ninth soldier remains unknown.
The soldiers were still wearing their military uniforms, Lebanese media reported.
The soldiers' remains were on Sunday transported to Beirut's military hospital for DNA tests to verify their identities.
"A statement will be issued once DNA test results have been received," the army's Guidance Directorate said in a statement.
Victory celebrations muted
Celebrations hailing the army's victory over ISIS were cut short when it was announced that the kidnapped soldiers had been killed in mid-2015.
General Security Directorate director general Maj. Gen. Abbas Ibrahim delivered the news to the soldiers' families at the tents they had pitched in downtown Beirut, where the families have maintained a vigil for many months.
"This case ... has regrettably been closed on a dark note," he said, according to Lebanon's Naharnet, as the families broke down in tears.
Ibrahim stressed that Fajr al-Juroud would not end until the last ISIS element had departed from Lebanese soil.
After the fate of the soldiers at the hands of ISIS was revealed, many Lebanese took to social media to demand that ISIS elements be prevented from leaving Lebanon without a trial, so the martyrs could receive justice.
"Where is wisdom in releasing ISIS after we found out the fate of our soldiers?" Information Minister Melhem Riachy said in a social media post. "Wisdom is in arrest, trial and execution!"
"The killing of soldiers who had been taken captive by ISIS reveals the true face of that terrorist group, which the Lebanese army taught a lesson in Ras Baalbek and al-Qaa," Lebanese MP Amal Abu Zaid told Al-Mashareq.
"The Lebanese army, supported by a clear, political decision, has shown its bravery in the mother of all battles, and in this way, the legend of ISIS was toppled under the Lebanese army in Fajr al-Juroud," he added.
"However, victory did not come without a thorn and a high price, represented by the blood of martyrs who fell while defending the dignity of the land and nation," he said.
ISIS has blood on its hands
ISIS elements are "responsible for the blood of all those who were killed on the border", said Brig. Gen. Mohammed Rammal, a retired Lebanese military officer.
"They are responsible for the blood of all those who were killed in car bombings. They are responsible for the tears of mothers and mourners everywhere across the country," he added.
"In my country, those who do not deserve to die have died at the hands of those who do not deserve to live," Lebanese citizen Rizka Yazbeck Helou wrote on social media. "We are children of life and they are children of death."
Activists did not spare Hizbullah in their anger against ISIS.
"It will not be long before your scandal is revealed," Lebanese citizen Abbas Hteit wrote on social media. "It will not be long until we know who sent vehicles packed with explosives to Beirut's southern suburb to justify fighting in Syria."
"The Syrian regime and Hizbullah have spoiled the joy of the Lebanese people and government over the Lebanese army's victory, by revealing the martyrdom of soldiers that has been known for years," said journalist Marlene Wehbe.
The families had been living in false hope following November reports that the soldiers were possibly still alive and had been transported to Syria's al-Raqa.