Yemen's Ministry of Human Rights has declared the Hajjah province district of Hajur a disaster area, and has urged the UN to intervene and provide urgent humanitarian assistance.
Yemeni Minister of Human Rights Mohamed Askar made the appeal during a Sunday (March 10th) press conference in Cairo.
The call for help followed the death of more than 60 civilians as a result of continued shelling by the Houthis (Ansarallah), and a two-month siege the Iran-backed militia has imposed on the area.
Askar urged all UN agencies, foremost the Security Council and the Office of the High Commissioner for Human Rights, to take serious and immediate steps to protect the population in Hajjah province's Hajur district in Kushar.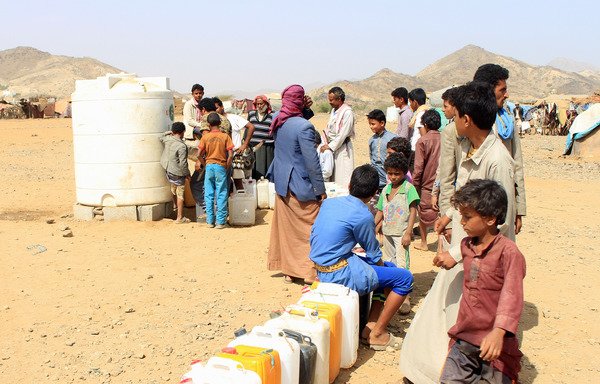 He called on the UN to pressure the Houthis to open safe corridors for the exit of civilians, allow relief teams in, deliver basic supplies including food, medicine and drinking water, and release kidnapped civilians.
Houthis shell civilian homes
Askar accused the Houthis of bombarding civilian homes in Hajjah province's Kushar directorate using heavy weapons, including ballistic missiles.
This shelling has resulted in 62 deaths, including four children and five women, he said, and has wounded a further 217 people, including women and children.
The situation also has led to the displacement of 4,268 families, consisting of "unarmed men, women and children", he said.
He accused the Houthis of blowing up "24 houses and mosques" and destroying "30 farms belonging to civilians" by preventing them from irrigating their land.
"They targeted those trying to reach their farms, and planted landmines everywhere," he said, in addition to imposing a strangling siege on Hajur.
"Houthi militias have prevented the civilian population in their besieged villages from accessing food and medicines, and have even shut off water, causing a real humanitarian crisis," he said.
"We are faced with a state of horror because of the executions, destruction of homes and burning of fields," Deputy Minister of Human Rights Nabil Abdel Hafiz told Al-Mashareq.
Humanitarian assistance needed
"The humanitarian situation in Hajur is extremely difficult," Abdel Hafiz said.
"The UN agencies and the International Committee of the Red Cross (ICRC) have to intervene to rescue the population and provide them with food and humanitarian assistance, and evacuate and help the wounded," he added.
The Ministry of Human Rights' appeal "is addressed to all international organisations which took part in the humanitarian response conference which was held [in Geneva] on February 26th", he said.
It calls on them to do their part in "rescuing the people of Hajur", he added, expressing his hope that "the humanitarian interventions in Hajur will be real and effective".
Journalist Moussa al-Namrani told Al-Mashareq that what is most needed in Hajur is the establishment of a safe corridor for the displaced population, tents, urgent relief and a field hospital where the wounded can receive treatment.
Also needed is the restoration of the communications network, he said, and allowing relief organisations access to the area so they can evaluate needs.