Addressing the issue of water scarcity remains a top priority for Jordan, which is the third poorest country in the world in terms of water resources and has the lowest per capita share of water compared to neighbouring countries.
The war in Syria has exacerbated the water scarcity issue, especially in the northern part of the kingdom, where large concentrations of refugees have increased the demand for water by more than 40%.
To ensure every drop of available water is harvested for use, the Ministry of Water and Irrigation unveiled a plan to build 11 dams in various regions in 2019.
This raises the total number of dams in the country to 25, according to the Jordan Times.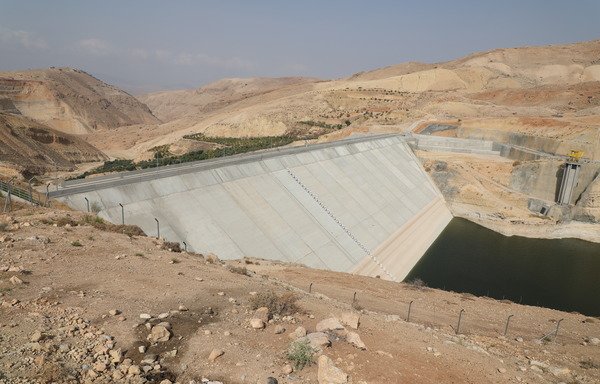 The decision to build the dams is "part of a plan to make available larger quantities of water using various means", ministry spokesman Omar Salameh told Al-Mashareq.
This includes the expansion of water harvesting through the construction of new dams, and increasing their total storage capacity from 336 million cubic metres (mcm) to 400 million mcm by 2025, he said.
Benefit of building new dams
Annual feasibility studies that look into increasing the number of dams in the kingdom take into account the possibility of securing financing for dam construction, Salameh said.
Once the need for a dam in a certain area is confirmed, the necessary financing for construction is secured, "either with donor assistance and grants, or self-financing by the Ministry of Water and Irrigation", he said.
"Jordan needs more dams and projects to secure water from various different sources, taking into account the environmental impact of dam construction," he said, noting dams increase groundwater levels and reduce flooding.
They also serve as sanctuaries for local and migratory birds, he added.
The construction of new dams will create a number of jobs, both during construction and to operate them once they are built, Salameh said.
Jobs also will be created for residents of the areas near the dams that involve the cultivation of various crops, fish farming and livestock breeding, he said.
In these ways, he said, the dams would "yield economic returns that help develop local communities and reduce poverty".
Ensuring a water supply
The depletion of Jordan's groundwater is a "major problem, and replacing it with alternative water is a major challenge", water expert Elias Salameh told Al-Mashareq.
The only long-term solution is seawater desalination, which would see desalinated water initially supplied to the city of Aqaba, and later to other Jordanian cities to cover immediate needs, he said.
The construction of new dams is part of the ministry's plan to take advantage of all internal sources of water in Jordan, and harvest water in every area where water collects in the winter, he said.
This is being implemented as funding becomes available, he added.
"The water security problem in Jordan cannot be solved with the construction of a small dam with a capacity of one million mcm and another with a capacity of half a million mcm," the water expert said.
The water security problem in Jordan is much bigger than anything these dams can provide, he added, pointing out that a lasting solution will require a water supply of "hundreds of millions of cubic metres".
"However, we can say that Jordan is trying with these dams to make use of every drop of water on its territory," he said.