The Iran-backed Houthis (Ansarallah) were unrivaled in committing human rights violations related to child recruitment and the planting of mines in 2018, an official with the National Committee for the Investigation of Human Rights Violations told Al-Mashareq.
The committee monitored, documented and investigated 5,072 cases of human rights violations in various Yemeni provinces in 2018.
Its findings were announced in a December 10th report to coincide with Human Rights Day.
The committee made more than eight field visits to the provinces of Marib, Hadramaut, al-Daleh, Taiz and al-Jawf, and reiterated its call on all parties to the conflict in Yemen to abide by the principles of international humanitarian and human rights laws.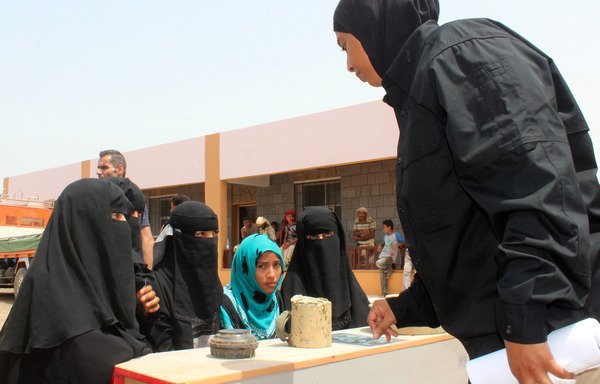 It identified 1,762 cases of civilian targeting by all parties to the conflict, that resulted in the killing of 704 people and wounding of 1,058 others, including 196 women and 413 children, said committee spokeswoman Ishraq al-Maqtari.
The committee investigated "132 cases of anti-personnel mine and vehicle explosions in which 137 victims were killed, including 33 children and 13 women", she told Al-Mashareq.
It also documented 78 cases of extrajudicial killings, 107 incidents of child recruitment, four incidents of medical personnel targeting, 21 house bombings and nine cases of targeting and destruction of cultural and historical objects, she said.
Unparalleled violations
The Houthis' human rights violations in terms of child recruitment and planting of mines were "unparalleled", al-Maqtari said.
"The Houthis committed the worst human rights violations because of the diversity of violations attributed to them," she added.
"The committee also investigated right to life violations committed by groups such as al-Qaeda in Abyan, Aden and Hadramaut provinces in 2018 that resulted in the killing [of the victims]," she said.
The committee's monitoring and documentation work "covers all Yemeni provinces and all violations committed by all parties without exception", al-Maqtari said.
The mechanism used to reach the victims is "varied and multifaceted to ensure a diversity of information channels and [the ability to] verify the information", she said.
The committee conducted field investigations with visits to the site where the incident took place, she explained. It collected and vetted information, listened to testimonies by victims and witnesses and analysed the environment and other factors.
"Field visits are conducted by researchers and monitors who are present in all provinces to facilitate the process for the victims, their families and the witnesses," she added.
Abuses inspired by IRGC
The mines the Houthis planted in areas under their control either came from the national mine stockpile or were camouflaged mines manufactured with Iranian support, expertise and training, lawyer and activist Abdul Rahman Barman told Al-Mashareq.
Bombs camouflaged as rocks -- which resemble devices recovered in Iraq and Lebanon and previously linked, forensically, to Iran -- have killed many Yemeni civilians, sparking public outrage.
"Every day we hear of a mine exploding here or there and injuring a number of people," said Barman.
"The Houthis have taken over the national mine stockpile that Yemen possessed," he said, adding that they were also trained to "manufacture mines that blend with natural surroundings".
With regard to child recruitment crimes, Barman said, "the Houthis deliberately recruit children" because they are "easily influenced and brainwashed".
A high percentage of the conscripts are children between the ages of 10 and 12, according to the complaints filed with the committee, he said, noting that children can be seen manning Houthi checkpoints and in photos of Houthi fighters killed in battle.
The Houthis recruit child soldiers to swell their ranks, and resort to kidnapping children from schools, brainwashing them and blackmailing their parents.
The atrocities committed by the Houthis are inspired by Iran as they mirror the abuses committed by the Islamic Revolutionary Guard Corps (IRGC).
The IRGC has been accused of sending Afghan immigrant and refugee children to fight in Syria as part of the Fatemiyoun Brigade.
It also established the first scout troops in that country in 2010 with the help of trainers from Lebanon and Iran.
War crimes
"Planting mines is a war crime and a crime against humanity because it targets innocent people first and foremost," political analyst Waddah al-Jalil told Al-Mashareq.
The Houthis target innocent people with anti-personnel mines, he said, adding that they plant mines in areas they control which are very near to being liberated.
They aim to inflict harm by planting mines randomly and without maps, compounding the Yemeni people's disaster and tragedy, he stressed.
The reason that the Houthis are unrivaled in their commitment of human rights violations is because they are "a militia and not a regular army that answers to a state", political analyst Khalid Ahmed told Al-Mashareq.
States know they will be held accountable for any violations of local and international laws and charters they commit, he said.
On the other hand, militias operate in the dark and the Houthis in particular "do not abide by any law nor care about international conventions and agreements", he said.