More than seven years into the war in Syria during which millions of Syrians were displaced to neighboring countries like Lebanon, studies have shown that a large number of refugees -- adults and children alike -- are suffering from post traumatic disorders.
To this end, several Lebanese and international organisations have been working to offer Syrian refugees with psychological and social support to help improve their quality of life.
On October 19th, IDRAAC (Institute for Development, Research, Advocacy and Applied Care) organised in collaboration with the St Georges Hospital University Medical Centre in Ashrafieh a roundtable, titled "Supporting a Good Environment for Refugees: Between Empowerment and Settlement".
Participants included UNHCR Representative in Lebanon Mireille Girard and Professor Richard Mollica, the Director of the Harvard Programme in Refugee Trauma (HPRT) of Massachusetts General Hospital and Harvard Medical School.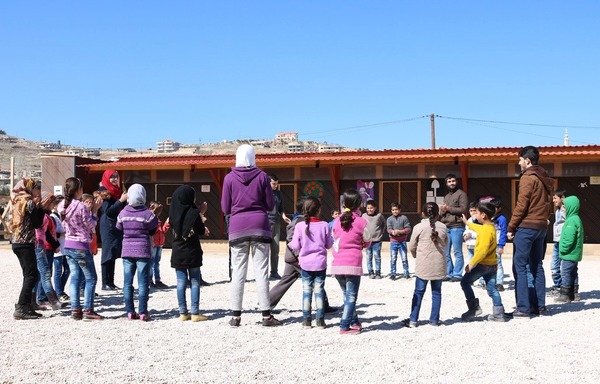 The roundtable addressed the status of refugees in Lebanon from various angles, including mental health, ways to improve their quality of life, and the impact of enhancing their quality of life on Lebanese society.
It also focused on Syrian refugees' intent to return to their homeland.
Providing psychological rehab
"A new approach is needed that centers on rehabilitating refugees to enable them to resume their normal lives after having been crushed by violence," said Mollica.
"The approach should not be limited to securing basic needs, but also include psychological rehabilitation," he told Al-Mashareq on the sidelines of the roundtable.
HPRT conducted studies on Syrian refugees in Turkey, Jordan and Lebanon, he said, which revealed a high number of cases of trauma, post-traumatic stress disorder (PTSD), anxiety and depression among them.
"The studies, conducted in co-operation with the Centre for Civic Engagement and Community Service (CCECS) at the American University of Beirut (AUB), showed that there is a correlation between trauma, PTSD and violence and the onset of chronic diseases and high mortality rate," Mollica said.
Studies have shown that the refugees' psychological conditions worsen upon their return home, he said, especially among those who remained for a long time in host countries and those who were forced to return to Syria.
"We have been working for three years with CCECS to provide a good environment for Syrian refugees, especially children and school-age youth," he said.
Schools offer safe environment
This co-operation has to date led to the construction of schools in the Bekaa Valley that provide support to those who experienced trauma in Syria, he said.
"It was found that 70% of [the students] had experienced horrific moments," said Mollica, including a large percentage of the children who witnessed killing and other traumatizing events.
The children today "have a good environment at school, and we provide them with tranquility, security and psychological support", he said.
CCECS launched in 2014 in partnership with the Kayany Foundation the portable school project in areas in the Bekaa and the north where there is a concentration of Syrian refugees, said the centre's director Rabih Shibli.
The aim of building scalable, portable units was to provide non-formal education to Syrian refugee students in Lebanon who have difficulty accessing formal schools.
These schools "have helped to improve the children's troubled psychological state of mind owing to the good and supportive environment that they provided", Shibli said.
Intervention plan
The centre and HPRT conducted a year-long study on refugee students, which found that "50 out of 110 students" suffer from depression and experience bouts of screaming, Shibli told Al-Mashareq.
The results of the study prompted the centre to develop an intervention plan to provide a supportive environment where children can feel psychologically and socially safe, he said.
The new intervention plan, which is awaiting funding to be implemented, "will take into consideration [providing] a good environment for students and treating psychological disorders and trauma at the hands of specialists", he said.
Meanwhile, IDRAAC has been working to support Syrian refugees for more than three years in several areas in the Bekaa, the foundation's president Elie Karam told Al-Mashareq.
"We assess the impact of the Syrian war on them, their living conditions, and how these factors affect their mental health... and relationship with their host community," he said.
IDRAAC aims to identify the negative factors that affect Syrian refugees and help them recover from them, he said.