The Bright Star 2018 joint military exercises between US and Egyptian forces, held in Egypt over the span of 13 days, concluded on September 20th at the Mohamed Naguib Military Base near the coastal city of Alexandria.
Ground, naval and air forces from Egypt, the US, Greece, Jordan, the UK, Saudi Arabia, the UAE, Italy and France took part in the drills, with 16 other countries present as observers.
Bright Star 2018, held from September 8th to the 20th, presented an opportunity to increase co-operation among participating countries in sharing expertise and facing common challenges, with an emphasis on countering terror threats, military experts told Al-Mashareq.
The drill included the conduct of several theoretical and practical lectures on combating terrorism and ways to deal with improvised explosive devices (IEDs), Egyptian Armed Forces spokesman Brig. Gen. Tamer al-Rifaie said in a September 21st statement.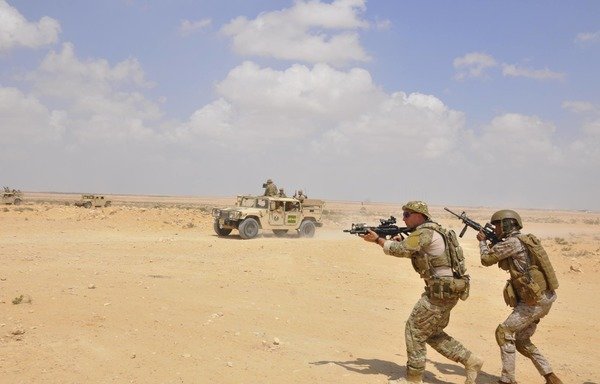 It also involved the conduct of non-standard live fire exercises with various weapons, al-Rifaie said.
Elements from the naval forces carried out joint drills on countering non-conventional threats and implementing day and night rescue operations, including raiding suspected vessels, providing support and the medical evacuation of the injured.
The drill also covered clearing naval mines with minesweepers, underwater detonation and destruction, and joint diving training.
It included joint air operations, defensive air combat training, attacks on vital targets and air refueling, as well as aerial support of ground forces, al-Rifaie said.
Comprehensive training
The Bright Star 2018 military exercises this year focused on security co-operation, counter-terrorism and training on different threat scenarios, using both conventional and asymmetric warfare.
Top commanders participated in seminars on international terrorism and illegal immigration.
The final stage of the training consisted of holding a tactical live fire exercise (Field Training Exercise) with various weapons by all participating forces, in which fighter jets conducted reconnaissance and aerial bombing of targets.
"Demonstrated in this stage was precision in hitting targets with consistency, and high capability for joint operation and full co-operation to achieve the training objectives in the specified time and place," al-Rifaie said.
Certain stages of the training were observed by the Commander-in-Chief of the Egyptian Armed Forces and Minister of Defense Lt. Gen. Mohamed Zaki, and the Commander of the US Central Command (CENTCOM) Gen. Joseph Votel.
'Most important joint exercises'
"The Bright Star training exercises are among the most important joint exercises in the world and have for decades played a major role in developing co-operation and exchange of expertise between Egypt and the US," said military expert Maj. Gen. Mohammed al-Ghabari.
The exercises have always included the "testing of new wartime technologies to train participating armies on their use", he told Al-Mashareq.
Training military combat groups from different countries to carry out joint missions greatly increases their ability to co-operate in confronting regional and international security challenges, he said.
"Bright Star has succeeded over the years in increasing co-operation between countries with the aim of achieving regional security and peace," said Maj. Gen. Mohamed al-Shahawy, adviser to the Army's Command and Staff College.
It has also increased the level of co-operation between the Egyptian armed forces and their American counterpart to an "unprecedented level", he told Al-Mashareq.
The exercises play a "major role in unifying the conceptions of shared challenges and the areas of co-operation between Egypt and the US", he said.
This in turn will contribute to the success of any future joint operations to counter threats to international peace and security, he said.