After attending the final session of the UN-backed Special Tribunal for Lebanon into the bombing that killed his father, Rafiq, and 21 others, Lebanese Prime Minister Saad al-Hariri said he hoped to see justice and truth prevail.
"From the start, we demanded justice, because we believe that justice and the truth protect Lebanon, and we never resorted to revenge," he said of the February 14th, 2005 slaying of his father, for which Hizbullah has been blamed.
In stark contrast to al-Hariri's remarks, delivered September 11th, Hizbullah supporters unleashed a firestorm of provocations, which included the launch of a Twitter campaign to hail the main defendant, Mustafa Badreddine, as a hero.
These included the circulation of a photograph of Hizbullah-allied MP Nawaf al-Moussawi smiling beneath a portrait of Badreddine, and the Hizbullah-affiliated al-Ghobair municipality's announcement it was naming a street for the assassin.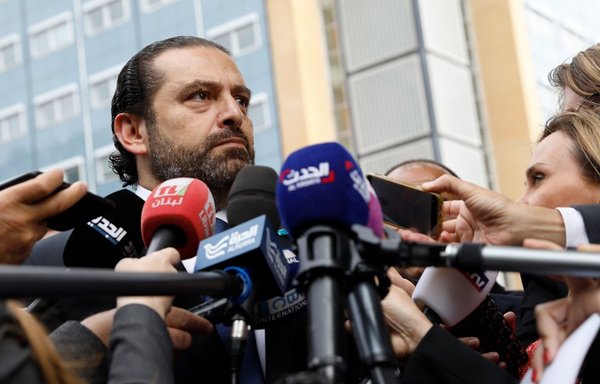 In a bizarre twist, the street is facing Rafiq al-Hariri general hospital.
These actions drew the ire of Beirut residents, the Saad al-Hariri-led Future Movement and many Lebanese, with Interior Minister Nohad al-Mashnouk issuing a statement to clarify that he had not approved the street name.
In a letter to al-Ghubairi municipality, the ministry ordered the removal of the street signs, describing the municipality's action as a "threat to public order".
'Provoking the Lebanese'
Nisreen al-Husseini, a member of the Shia community in the southern suburb of Beirut, told Al-Mashareq she did not support the municipality's decision.
"How is it that al-Ghubairi municipality did not think of honouring [Badreddine] until after he was indicted by the Special Tribunal for Lebanon for plotting to assassinate the martyr Rafiq al-Hariri?" she asked.
"Putting up a metallic street sign bearing Badreddine's name has provoked many Lebanese, especially as the assassination of al-Hariri is a national crime in the first place, and resulted in the fall of dozens of martyrs," she said.
The explosion that killed al-Hariri as his motorcade drove near the St. George Hotel in Beirut also killed another 21 people and wounded more than 200.
Janoubia.com publisher Ali al-Amin criticized "the move to name a street in al-Ghubairi after Badreddine without regard for the consequences".
"[Hizbullah] does not want to discuss even the thought process that spawned the idea of choosing a street adjacent to the city of Beirut, that is still grieving over the crime of al-Hariri's assassination," he said.
It is particularly galling that Hizbullah chose a street in the vicinity of the Kuwaiti embassy, which accuses Badreddine of attempting to assassinate its emir and being behind the bombings in Kuwait in 1985, he said.
Condemnation on social media
Some pro-Hizbullah social media users have further fanned the flames by posting photos of banners bearing Badreddine's name being raised in Beirut's southern suburb and even lobbying to rename the airport.
Doctored photos showing Rafiq Hariri International Airport being renamed for Badreddine have been circulating online, and threats to revive the May 7th, 2008 conflict have been issued in the event that the street sign is taken down.
In response to these provocations, a number of social media users responded with comments condemning the actions of Hizbullah supporters.
"Hizbullah insists on a second assassination of Rafiq al-Hariri and awakening sedition in Lebanon," wrote social media user Mohammed Ali al-Husseini.
Vera Bou Munsif wrote, "And the criminal now has a street named after him… it is certainly a Lebanese privilege. No! It is certainly a Syrian-Iranian privilege."
"The problem is deeper than naming a street after Mustafa Badreddine," said former Lebanese MP Fares Soueid. "The problem is the persistent political acquiescence to Hizbullah's conditions that enabled this behaviour."
Political analyst Nadim Koteich said naming a street after Badreddine is "an explicit violation of the law", adding that "the street signs must be taken down immediately".
An act of sedition
Political analyst Rashid Fayed, who is close to Saad al-Hariri, told Al-Mashareq he "is not surprised by Hizbullah's behaviour".
"The hopes pinned on Lebanonizing Iran's party and the possibility that it would get back on the path of patriotism have failed after long denial," he said.
Most dangerously, he said, Hizbullah "enjoys being a partner of the Bashar al-Assad regime" and answers to Iran, which has provided it with weapons and funds to help it further its own subversive regional agenda.
Responding to the actions of al-Ghubairi municipality, the incoming Prime Minister said that attempting to name a street after Badreddine is regrettable.
"This is, in essence, sedition," al-Hariri said.
"When we went to the international tribunal we affirmed the logic of stability, but it seems there are people who want to take the country to a different place," he said. "They will have to bear the responsibility for this before God and Lebanese citizens."