Russia has been seeking to widen its influence in the Middle East through direct military intervention and through the use of soft power tactics that include trade agreements and the expansion of social and cultural institutions, experts said.
After years of declining influence in the Middle East, Russia is clearly trying to make inroads into regional affairs, Syrian lawyer Bashir al-Bassam told Al-Mashareq.
Following Russia's direct intervention in the Syrian conflict, which it entered in 2015 in support of the Syrian regime of Bashar al-Assad, Russian influence -- which is also focused on Lebanon and Egypt -- gradually began to increase.
Russia "has ramped up its historic military presence" in Syria, which before 2011 had been limited to its bases in Tartous and Banias and a limited number of anti-aircraft missile sites, al-Bassam said.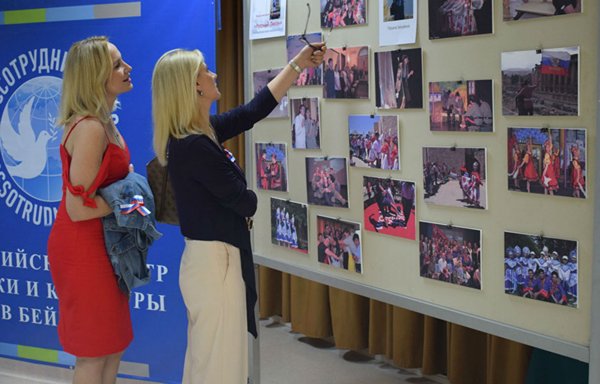 Since 2015, Russia has had access to "many [military] airports and bases" in Syria, he said, and "direct military presence on the ground".
Russia also is trying to strengthen its "soft ties" with Syria by increasing the number of Syrian students studying in Russia and the number of scholarships awarded to them, al-Bassam noted.
It has succeeded in convincing the Syrian regime to add Russian as a basic language in school curricula, he said, pointing out that this effort has not been confined to regime-controlled areas.
With these moves, he said, Russia aims to spread its influence across all of Syria by promising protection, influence and jobs, with Russian companies lined up to enter Syria's mining, oil and gas sectors when the war winds down.
Inroads in Lebanon
In neighbouring Lebanon, Russia's influence dates back a long time, "and it is trying today to take advantage of this legacy" to re-exert its influence, said Lebanese businessman Munir Wehbe, who asked that his real name not be used.
Russia's recent offer of a $1 billion arms deal to the Lebanese army, on favourable terms, failed to go through due to the lack of Lebanese political consensus, he told Al-Mashareq.
The agreement threatened to undermine existing US and UK military assistance programmes and could have subjected the country to sanctions, various media outlets reported.
"Cultural institutions such as the Russian Cultural Centre also play a role in expanding and strengthening relations at the grassroots level," Wehbe said.
New centres have been opened in Aley, Tripoli, Batroun, Baalbek, Beit Mery, Baaqlin, Nabatieh and Rashaya, he noted.
Despite their cultural facade, the primary role of these centres is the normalisation of the Russian presence, "and the dissemination of Russian ideas in Lebanon", Wehbe said.
They are aided in this endeavor by Lebanese citizens who received their education in Russia, he said, and by organisations such as the Lebanese-Russian Friendship Association and the Lebanese-Russian Business Council.
"Russia aims, with its use of soft power, to build broad popular bases for itself in Lebanon, aided at this time by its good relations with Hizbullah, the Lebanese Communist Party", and others that support the Syrian regime, Wehbe said.
Investment in Egypt
"Russia is trying to invade Egypt economically," Egyptian Businessmen Association's investment committee member Rashad Amer told Al-Mashareq.
"Russian investments in Egypt currently total more than $5 billion," he said, noting that "there are about 400 companies operating in all sectors".
This includes everything from agriculture, industry, telecommunications and finance to information technology and petroleum, he said.
Alongside this economic expansion, Amer said, "the Russian Cultural Centre and Russian popular delegations are stepping up interactions with a large number of Egyptian university students and politicians".
"The Russian Cultural Centre, through its two main branches in Cairo and Alexandria, offers many free and near-free services to attract the Egyptian youth, and a large number of full and partial scholarships to Egyptian students every year to study in Russia," he said.
The Egyptian-Russian Friendship Society, headed by Guevara al-Jafi, also has been notably active in recent months in promoting the Russian presence in Egypt through various activities, he added.
A strategic base
Egypt and Russia in May signed an agreement for a $7 billion Russian Industrial Zone (RIZ) to be established in the East Port Said region.
The 50-year agreement will give Russian companies rights to develop a stretch of land in the Suez Canal Economic Zone into an industrial zone for Russian companies that will be built over three phases.
This will give Russia a strategic base in Egypt that will facilitate exports to the rest of the Middle East and Africa.
The RIZ, slated to open soon, already has attracted many Russian companies, Amer said, including Russian Helicopters, which specialises in the manufacture of civilian helicopters, and Kamaz, which produces heavy-duty trucks.
Amer noted the Russians' clear focus on the oil and gas sector, from the initial stages of exploration to drilling, extraction and refining.
"Their focus on this sector is owing to its economic vitality and the fact that it ensures that Russia has a key presence in the region," he said.