Houthi (Ansarallah) militias are committing war crimes against Yemeni children by destroying schools and conscripting more than 15,000 under the age of 18 to fight in the war, Yemeni officials and human rights activists say.
The Iran-backed Houthis are engaging in a "despicable" practice, Yemen's Deputy Minister of Human Rights Nabil Abdul Hafeez told Al-Mashareq, adding that some of the conscripted children are as young as 8 or 9 years old.
Unofficial figures indicate that more than 25,000 children have been conscripted by the Houthi militias since the outbreak of the war. The confirmed number stands at 15,000 conscripts under the age of 18, most of them between the ages of 10 and 15, he said.
"The Houthis target the 10-15 age group for conscription because children that age are more submissive and obedient to their orders," Abdul Hafeez said.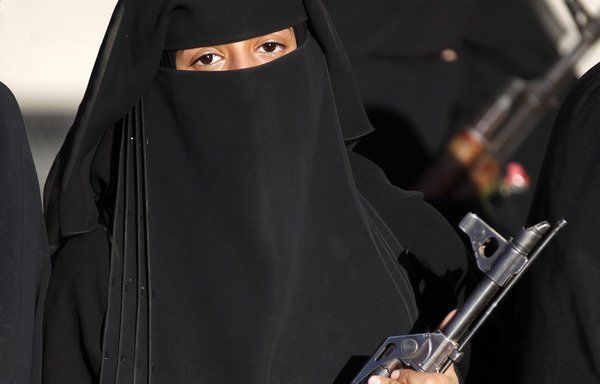 The children will suffer psychological problems from fighting in these wars if they return home safely, which is unlikely, he said.
"Conscripted children on the frontlines are forced to use hashish and other drugs, which will consequently lead to a psychologically scarred generation," he said. "Those who survive become ticking time bombs in society as they are inclined to continue to carry out acts of violence, looting and terrorism."
Education for 4.5 million children on the line
The Houthis' attitude towards education is another form of child abuse, Abdul Hafeez said. Their actions have caused more than four million children to be at risk of being deprived of education, while Houthi militias use schools as military barracks or weapons depots.
Three-quarters of teachers are forced to work months with unpaid salaries, meaning up to 4.5 million children cannot finish the school year, according to UNICEF.
Nearly half a million children have dropped out of school since the 2015 escalation of conflict in Yemen, bringing the total number of out-of-school children to 2 million, the children's agency said.
In addition, the Houthis deliberately destroyed schools and the healthcare sector, which fell out of service under their reign, Abdul Hafeez said.
The Houthi militia has put the education of 4.5 million children on the line, "including 1.6 million in the last two years after the militia shelled and partially or totally destroyed 2,372 schools and used more than 1,500 of them as prisons or military barracks," said Minister of Social Affairs and Labour Ibtihaj al-Kamal.
"Children have suffered the lion's share of tragedies caused by the war," she told Al-Mashareq, adding that statistics provided by international organisations indicate that "more than 1,546 children have been killed by the militia-led war against the Yemeni people".
"More than 2,450 children have been maimed," she added.
Exploiting families, kidnapping children
The Houthis have exploited people's financial desperation and poverty by delivering food aid to families in exchange for boys for conscription, journalist Munir Talal told Al-Mashareq.
Talal said the Houthis' loss of many of their fighters in the intensifying fighting and the decline of tribal and community support, forced them to use illegal means such as the kidnapping of children or exchange of food aid for children, to swell their ranks.
The Houthi militias resorted to conscription of children because they are facing "a war that targets their existence", Musa al-Nimrani, media official for The National Organisation for Defending Rights and Freedoms (HOOD), told Al-Mashareq.
They recruit children because they are more submissive during the ideological brainwashing process, he said, adding that "child conscription is the easiest way to make up for the shortfall in fighters the Houthis face on the frontlines".