The International Committee of the Red Cross (ICRC) on Thursday (June 7th) announced it is withdrawing 71 of its staff working in Yemen, crippling its humanitarian activities.
"While the Yemen delegation has received numerous threats in the past, we cannot now accept additional risk less than two months after a gunman killed a staff member," the organisation said in a statement.
"The security of our staff, who are being intimidated by parties to the conflict, is a non-negotiable prerequisite for our presence and work in Yemen," it added.
The decision will impact surgical services provided by the ICRC, clean water initiatives, food aid and visits to detainees, the organisation said.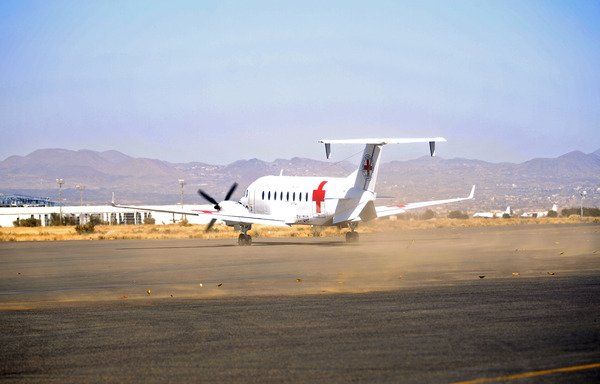 "The ICRC has been working in Yemen since 1962, but we now see a dangerous trend with regard to our current activities," the statement said, noting that in recent weeks, its activities have suffered direct threats and attempted attacks.
"We see a strong attempt to exploit our organisation in the conflict, and we hold all parties responsible for the security of our staff," it added.
"The ICRC is calling on all parties to the conflict to provide it with concrete, solid and actionable guarantees so that it can continue working in Yemen," it said, adding that it "must have the full agreement of all parties to the conflict".
Those withdrawn from Yemen represent more than half of the ICRC's international staff in the country and one fifth of its total staff, spokeswoman Marie Claire Feghali told AFP.
She added that after the withdrawal, ICRC counted a team of 452 staff members in the country, including Yemeni nationals.
ICRC employee killed
"The ICRC suspended its main activities two months ago after one of its employees was killed," said Adnan Hazam, a spokesman for the ICRC in Yemen.
It only kept life-saving activities, which are now suspended, and 71 staff have been pulled from all areas where the organisation works, he told Al-Mashareq.
Dozens of hospitals had been receiving monthly rations of medicine as well as surgical teams from the ICRC, which also ran the surgical hospital in Aden and carried other activities in Taez province, Hazam said.
These activities have been suspended, he said.
"Since the death of ICRC employee Hanna Lahoud in Taez on April 21st, we suspended our main activities," Hazam said, noting that this was largely due to the difficult security conditions which precluded necessary travel.
"But as life-saving activities continued, so did threats to the organisation's movements, forcing the ICRC to announce the suspension of life-saving activities," he added.
"The resumption of the ICRC's work and activities depends on the security guarantees that are given to us by all international parties and the parties to the conflict," Hazam stressed.