A new Beirut-based university is offering degree programmes that include courses on human rights, non-violence strategies and mediation.
The Academic University College for Non-violence and Human Rights (AUNOHR), the first of its kind in the region, uses innovative teaching methods with the aim of fostering young professionals who can bring about change in their societies.
University president Issam Mansour spoke with Al-Mashareq about the university and its role in the establishment of the culture of non-violence.
Al-Mashareq: When was the university established? What is its purpose?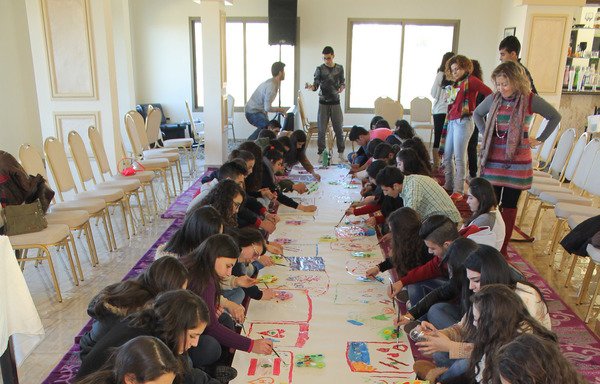 Issam Mansour: The university was established in 2014 upon obtaining a license issued by decree of the Council of Ministers and commenced education in October 2015 upon receiving a ministerial license from the Ministry of Education and Higher Learning to proceed with education activities.
The university is a private institution dedicated to higher learning, and is the first of its kind in Lebanon and the region.
AUNOHR is concerned with everything related to the culture of non-violence, human rights, citizenship and non-sectarianism, and offers innovative academic disciplines and modern applied fields of studies.
Our students are professionals, specialists and activists in areas encompassing all aspects of life who want to enrich themselves with the culture of non-violence.
The university's mission is to advance academic professionalism and foster a transformation from a violent society to a non-violent one by grooming senior cadres and youth from all professional sectors and of all specialties.
The primary focus is on educators, school and university teachers, and media professionals to groom them into professionals and influential actors in society.
Al-Mashareq: What is the university's concept of non-violence?
Mansour: As everyone knows, violence is multifaceted. It comes in many forms, from psychological, educational, economic, social, political, religious and physical violence to extremism.
The culture of non-violence is unfortunately still marginalised in most societies, even though it has been part of the heritage of peoples through the ages in all corners of the world.
We are working first to develop a new understanding of violence based on scientific foundations, then to acquire the concepts of violence in depth and disseminate the lexicon and applied skills of non-violence as part of learning strategies.
Al-Mashareq: What kind of teaching methods are used?
Mansour: The university's philosophy is based on active, interactive learning. We apply the methods and techniques of non-violent thought with the students, which is a vibrant and non-traditional educational approach.
For example, we use the techniques of social psychology, participatory theatre, audiovisual tools, research on non-violence figures and experiences that abound in human history, and we equip students with inspiring reading material.
Al-Mashareq: Are there any efforts to expand your teaching of the culture of non-violence to schools?
Mansour: Very soon, we will sign a memorandum of understanding and co-operation protocol with the Ministry of Education to introduce a course on non-violence in schools and universities, in an initiative launched by our university.
To provide continuity and expand the circle of non-violent education, we launched a programme that grants 'Non-violent School' certificates to schools that adopt the non-violent curriculum in full, and we help train them on it.
We support schools that decide to adopt the culture of non-violence by training their teachers, principals, supervisors, administrative staff, cafeteria workers and bus drivers, to ensure comprehensive implementation.
We are also working to introduce the subject of the culture of non-violence at the Lebanese University, with which we signed a co-operation protocol in 2016, under which AUNOHR uses its premises to hold lessons and lectures.
Al-Mashareq: Does your programme include Syrian refugees?
Mansour: Of course. We train teachers and activists in civil society, both Lebanese and Syrian, on qualitative skills in non-violence education and positive approaches to addressing the many conflicts and problems refugee students face.
More than 60% of our current students are from Iraq, Syria, Egypt, Palestine and Jordan. They come to us to acquire academic and professional skills to confront problems and violence they face.
Al-Mashareq: How much does what you offer contribute to the creation of a nonviolent society?
Mansour: When we train a professor or a teacher, we benefit an entire generation, as the students take with them the knowledge they acquire and apply it to their own life.