The ballot boxes closed for Lebanon's parliamentary elections on Sunday (May 6th) with less than half the number of registered voters turning out to vote.
Across the country, turnout stood at 49.2%, according to Interior Minister Nohad al-Machnouk, who chastised those who did not turn out to vote in a press conference held close to midnight, at the end of a long day.
"Citizens who did not vote cannot object to what happens in the future," he said. "They were given the chance to vote, but they did not."
The low turnout was recorded even with an influx of new voters who had either reached the voting age or qualified under new rules.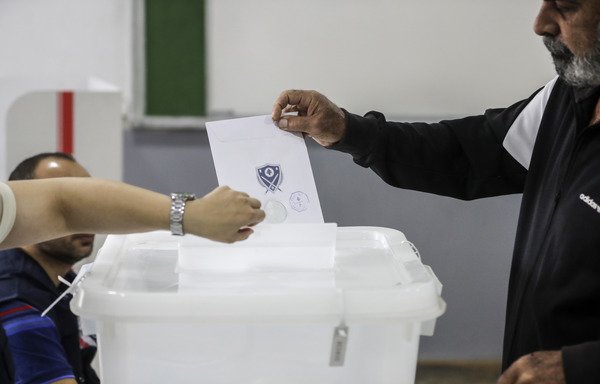 "The administrative traps of the new law were reflected in the number of calls received at the operations room, with 7,000 inquiries received about issues and details and 90 cables about security skirmishes," al-Machnouk said.
"In 2009, there was a total of 4,500 calls."
Several administrative issues were recorded in the elections -- the first since 2009 -- and voting was suspended in some polling stations, including Choueifat, though there were few violations overall and no major incidents.
"This is a new law and voters were not familiar with it, nor were the heads of polling stations," al-Machnouk said. "Voting operations were very slow."
Official results posted Monday
Official election results were expected to be posted around noon Monday.
A preliminary reading showed the alliance of the Progressive Socialist Party (PSP) and the Lebanese Forces made headway in some districts, while the Free Patriotic Movement (FPM) penetrated new districts, including Batroun, Akkar, Zahle and Beirut's 1st district.
However, the FPM lost some ground in other districts, such as Keserwan, Jbeil, Baabda and Jezzine, which was won by Parliament Speaker Nabih Berri, who regained the Jezzine seat he had lost in 2009.
Hizbullah and Amal won all 27 Shia seats, including in Beirut, the south, the Beqaa Valley and Zahle.
The Lebanese Forces won the Maronite seat in Baalbek-Hermel district, however, while the Future Movement won the Sunni seat in that district.
In Beirut's 2nd district, Saad al-Hariri's Future Movement lost a Sunni seat and a Shia seat. Its representation also dropped in Tripoli, Sidon and Western Bekaa.
In Beirut's 1st district, independent candidates from the civil society movement were able to penetrate the rival lists.
First elections since 2009
This was the first time Lebanon has held legislative elections since 2009.
The election was held in 15 districts. According to the electoral lists, the total number of registered voters in all districts was 3.7 million.
The 77 electoral lists comprised 597 candidates, including 86 women.
According to observers of the elections and the new list-based proportional representation law, this election has showed the real size of blocs, some of which had been blown up and others downsized under the previous election law.
One electoral irony was that many parties allied in some districts and competed against each other in other districts.
The FPM, for example, allied with the Future Movement in Batroun, Koura, Zahle and Beirut's 1st district, but competed against it in Sidon-Zahrani, Beirut's 2nd district and Akkar.
The FPM also allied with Hizbullah and Amal in Beirut's 2nd district and Western Bekaa, but competed against it in Jezzine-Sidon, Zahrani-Tyre, Marjayoun-Hasbaya and Jbeil.
'Made hope possible'
Despite the disappointing turnout, the new electoral law that allows smaller parties to run helped a civil society list break into parliament.
At least one of two women in the movement was expected to enter parliament, where they have pledged to extend their feisty campaign against political dynasties they charge are incompetent, self-serving and corrupt, AFP reported.
Alexandre Salha, a 30-year volunteer with the "Kulluna Watani" civil society list, gathered with other supporters in a Beirut cafe after the vote Sunday and said the most important thing was to get a foot in the door.
"We look forward to 2022 and we really believe that change has started. If we get one or two today, hopefully we will have 10 in four years. We made hope possible," he said.