Syrian filmmakers in Jordan recently screened a series of short documentaries at Amman's Rainbow Theatre that shed light on the experience of Syrians who were forced to flee their country.
Syria Stories, an anthology of 11 short documentary films, is the result of a collaboration between the British Council, Bidayyat for Audiovisual Arts and the Scottish Documentary Institute.
The project sought to "support emerging Syrian filmmakers located in Lebanon, Jordan and Turkey to build their skills in creative documentary filmmaking", said Stephanie Twigg, Syrian Arts Manager at the British Council, Amman.
Filmmakers were encouraged to challenge stereotypes and share their experiences and perspectives with the wider world, she told Al-Mashareq.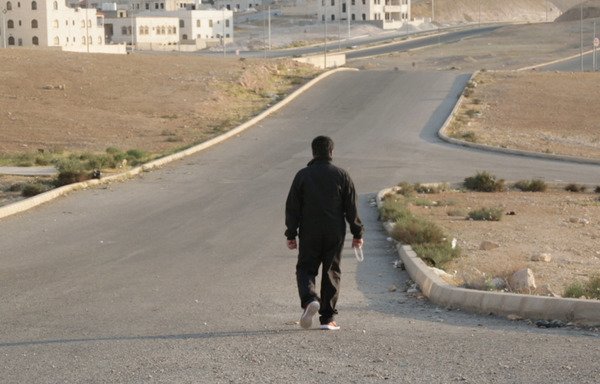 "Documentary films narrate silent stories that usually do not find a way in the daily coverage of war news," she said, noting that they humanise strangers and shed light on the personal stories behind the headlines.
They are not just about facts and figures, she added, but "are about helping us to better understand the world around us and the lived experience of others".
Developing personal stories
Between March and July of 2017, the Syrian Stories programme offered 35 young Syrian filmmakers two weeks of intensive training at workshops held in Beirut, Amman and Istanbul.
Filmmakers were encouraged to develop personal stories that might offer viewers a window into the impact of the crisis on ordinary Syrians.
Heba Hmeidy, a refugee from Aleppo, created a film with Mohammed Labbad narrating her family's experience since the start of the war in 2011.
The 10-minute film, "Al-Hayah al-Muaallaqa" (Suspended Life), tells the story of Hmeidy's father, who defected from the Syrian army.
It was difficult to convince her father to be filmed, said Mohammad Abdallah, one of the filmmakers.
"He was a powerful military man, and filming him now as a refugee from his home in Zarqa [Jordan] was not easy, as he did not want to be shown in a weak position," he told Al-Mashareq.
"While filming, we laughed and cried so much," Hmeidy told Al-Mashareq.
"My film is about my father, but the idea behind it is to narrate the story of many more like him — those who defected from the national army and have been denied as a result many of their human and political rights," she said.
Sharing experiences, emotions
In another film, "Al-Entezar" (The Wait), Abdallah and Mohammad Maslameh tell the story of a photojournalist friend who was injured in an airstrike in Syria.
It shows the protagonist's struggle to come to terms with his life in Jordan, where he suffers flashbacks of the conflict, after one of his legs was amputated.
"In a context where we are used to seeing images of destruction and despair, the films show us quieter stories," Twigg said.
"They take us deep inside the refugees' homes and show them as humans," she added. "They tell us what a day in their life looks like, the places they go to, the jobs they do and how they interact with their neighbours."
While Syrian refugees are traumatised by what they have seen and experienced, positivity and hope remain, she said, and this comes through in the films.
Each of the filmmakers experience a level of insecurity and uncertainty, whether in Lebanon, Turkey or Jordan, she said, noting that most had only recently left Syria and were still trying to find their feet in their new country of residence.
"This programme was an opportunity to reflect on their experiences and emotions and the experiences of other displaced Syrians," Twigg said.