The Egyptian army's large scale campaign against terror groups in parts of the Nile Delta and the Western Desert, and in northern and central Sinai, has entered its third week and is now in its second phase, Egypt's army chief of staff announced Monday (February 26th).
Launched on February 9th, "Operation Sinai 2018" came in the aftermath of the November terror attack against a north Sinai mosque.
President Abdel Fattah al-Sisi had ordered the army's chief of staff Gen. Mohammed Fareed to restore security and stability to the region within three months.
But Fareed called on the president to extend the operation beyond the three-month timeframe that is set to expire end of February, Egypt's Ahram Online reported Monday.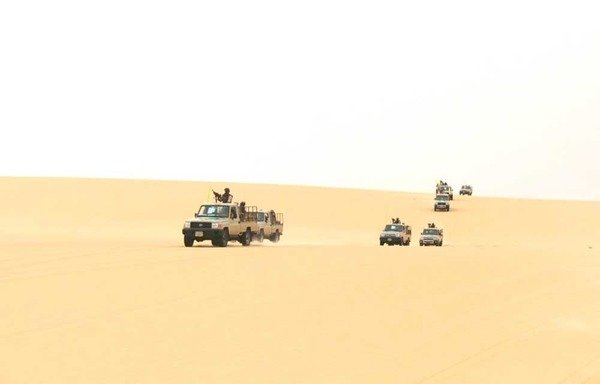 The second phase of the operation will include concentrated airstrikes and artillery shelling of extremists' hideouts, the expansion of naval and special forces combat operations, and tightening the siege in northern and central Sinai from the western desert bank to the Suez Canal, Fareed said at a Monday press conference.
Egyptian forces also will carry out a security sweep of cities after implementing the siege and round up all terror suspects, he said.
Preventing retaliatory attacks
Seven Egyptian soldiers and 71 extremists have been killed since the launch of the operation, AFP reported Thursday (February 22nd).
"As a result of the heroic combat operations by our armed forces...seven heroes of the armed forces were martyred," military spokesman Col. Tamer al-Rifaie said.
"Seventy-one extremists have been killed and five arrested," he said, adding that 1,852 other suspects have been rounded up.
Egyptian forces also destroyed 1,282 sites used by extremists to store administrative and medical supplies, weapons, and materials used in the manufacture of IEDs, he said.
Two sites were discovered that were used by terror groups for the production of media content and two others used for wireless communication, he added.
Egyptian forces also discovered close to 393 improvised explosive devices (IEDs) made with C-4 and TNT explosives intended to be used in attacks on Sinai and other provinces in Egypt.
According to the military spokesman, one objective of Operation Sinai 2018 is to secure all provinces to prevent retaliatory attacks by terror groups.
To that end, joint forces, including the army, police and border guard are currently sweeping roads and trails in the western desert fringe of the delta region and west of the Nile Valley "in pursuit of terrorist and criminal elements", al-Rifaie said.
They also are securing the Suez Canal navigational waterway and tightening security measures at crossings and aboard ferries to the Sinai Peninsula, he said.
Local support for Operation Sinai 2018
Military operations in Sinai "have so far been successful in achieving their objectives", said MP Hossam al-Rifai of North Sinai.
"There is a comprehensive plan to ensure that life in northern Sinai returns to normal," he told Al-Mashareq.
North Sinai provincial capital al-Arish is safe and the army's operations are currently taking place outside the residential blocs, he said.
The local population's response to Operation Sinai 2018 has been positive, he said, noting that "the army and police forces acted in a courteous and professional manner inside residential areas and in conducting inspections."
"The residents' first priority is to support every effort made by the [Egyptian government] to eliminate terrorism in this region," he said.
Co-ordination exists at the highest level between the army and police forces and tribal sheikhs to support counter-terrorism efforts, he said, noting that the tribes sometimes assist in the capture of dangerous terrorist elements.
Security forces have achieved "very good results", al-Rifai said, including destroying a large number of extremists' hideouts and severing their supply and logistical support routes.
'Life has not stopped'
The tribes are providing the armed forces with information on extremists and serving as guides in operations conducted in mountainous areas, said MP Hijazi Saad of North Sinai.
Co-ordination is conducted through meetings held on a continuous basis between tribal leaders, army commanders and security agency officers, he told Al-Mashareq.
Life in Sinai has not come to a standstill as a result of the military operation, Saad said, except for schools, which have been suspended out of concern for students' safety.
"Sinai is being supported with strategic commodities and food items, and there is a number of stores that are operating normally once again," he said.
"Gas stations also are being supplied with all the fuel they need," he added.
"Life has not stopped; the army is working to protect and secure residents and meet all their needs."
Sinai development
The development of Sinai will begin following the conclusion of the comprehensive military operation, Saad said.
The region will see major national projects to serve the population, which include infrastructure rehabilitation and the injection of investment to take advantage of Sinai's resources, which have yet to be exploited, he said.
"Two weeks after the launch of the Sinai operation, it is clearly evident that Egypt is exercising its authority and sovereignty over all of Egypt's direct and indirect security points", said political analyst Ibrahim al-Shehabi.
Egyptian forces have succeeded in dismantling the logistical capabilities of terror groups, he told Al-Mashareq.
Operation Sinai 2018 has included conducting "precision strikes that have set terrorist [groups] back 10 years after they had managed during the previous chaotic years to step up their establishment of bases", he said.