The strengthening this year of a bilateral defence agreement between the US and the UAE has paved the way for increased military co-operation between the two allies, observers told Al-Mashareq.
Signed in May, the new Defence Co-operation Agreement expands work in key defence and security arenas between the two partners, building on an existing agreement between the two countries that has been in place since 1994.
Recent co-operation includes a joint UAE-US military exercise, "Iron Union 5", in September, in which the two sides exchanged military expertise to boost their combat competence and readiness to respond to regional security challenges.
"The UAE was one of the first countries in the region to partner strategically with the US in fighting terrorism," Emirati writer and political analyst Abdullah al-Mutawa told Al-Mashareq.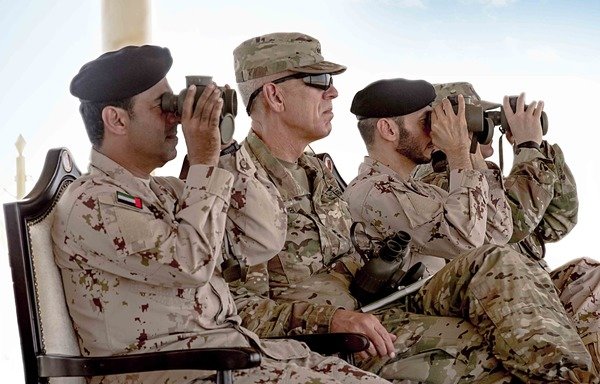 The UAE is the only Arab nation to participate with the US in six coalition actions over the last 20 years, notably the fight against al-Qaeda in Afghanistan and the fight against the "Islamic State of Iraq and Syria" (ISIS) in Iraq and Syria.
The UAE's participation in joint military and security exercises "reflects the UAE leadership's interest and determination to stand firmly and resolutely against all the threats and challenges facing the Gulf region", al-Mutawa said.
Since 2012, he noted, the UAE has hosted Hedayah, the first International Centre of Excellence for Countering Violent Extremism, in Abu Dhabi.
Hedayah is an independent, multilateral centre devoted to capacity building programmes, dialogue and communications, in addition to research and analysis to counter violent extremism in all its forms and manifestations.
Multifaceted security co-ordination
"Security relations between the UAE and the US that have been deeply rooted in history for decades are at their best," UAE political affairs researcher Khaled al-Qasimi told Al-Mashareq.
This "multifaceted" co-ordination includes providing strategic information and logistical support for maritime, air and ground operations, he said.
It also includes the exchange of military expertise and modern technologies in response to security threats, al-Qasimi added.
Political ties between the countries are strong too, he said, as "both sides seek to fight terrorism" and to ensure entities such as Iran's Islamic Revolutionary Guard Corps (IRGC), Hizbullah and the Houthis (Ansarallah) are kept under close scrutiny.
The US stance on "protecting the security of the Gulf region is very positive, and supports the Gulf's inclination to counter Iran-backed terrorist groups", he said.
As part of the international coalition to fight ISIS in Iraq and Syria, he added, the UAE "has achieved great successes", and has had a strong hand in defeating ISIS and expelling it from its main strongholds in Iraq and Syria.