Fighting intensified in Yemen over the weekend as the Houthis (Ansarallah) targeted members of slain ex-president Ali Abdullah Saleh's party and Yemeni forces struck a Houthi training camp and moved in on the port of al-Hodeidah.
Meanwhile Saleh, killed December 4th following his call a few days earlier for a popular uprising against the Houthis, was buried Saturday (December 9th) at his home village outside Sanaa, AFP reported.
A relative said no more than 20 people attended the burial, under the strict watch of the Houthis, while a Houthi official confirmed the burial had taken place under tightly controlled conditions.
Parliament speaker and General People's Congress (GPC) member Yahya Ali al-Rai and Houthi commander Ali Abu al-Hakim attended the burial, and the Houthis allowed Saleh's son Madin and a nephew out of detention to attend.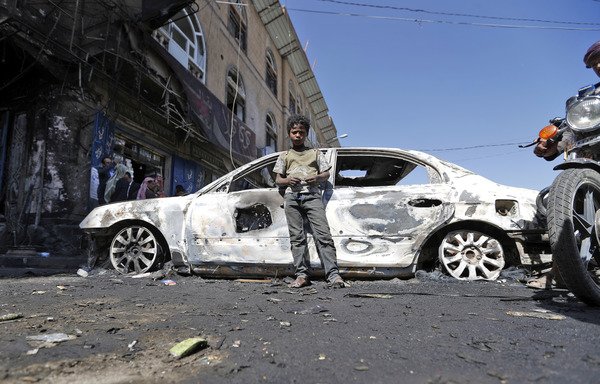 Since Saleh's December 2nd call for a popular uprising, the Houthis have moved to confront, detain or kill all those who support it.
The Iran-backed militia has placed several members of the so-called National Salvation Government from Saleh's GPC party under house arrest and has prevented them from leaving Sanaa.
'Repressive measures'
GPC general committee member Adel al-Shogaa told Al-Mashareq the Houthis have been engaged in "repressive" measures against his party.
GPC leaders overseas have been working with the international community to put a stop to these measures, he said.
"In addition, there are domestic and external arrangements to confront the crackdown and abuses which forced many GPC politicians and journalists to leave Sanaa to escape the repression of those militias," he added.
These include arrangements and co-ordination with the government of President Abd Rabbu Mansour Hadi to facilitate the arrival of those leaders in provinces under the control of the legitimate government, he said.
Prime Minister Ahmed Obaid bin Daghr on Saturday instructed the governors of provinces under government control to receive families displaced from Sanaa, including GPC members and those participating in the popular uprising.
Meanwhile, the Houthis continued to raid and loot the houses of relatives of Saleh and GPC leaders under a complete media blackout.
Disrupted communications
The Houthis have been disrupting internet access nationwide, AFP reported.
The Beirut-based Social Media Exchange (SMEX), which advocates for digital rights across the Arab world, said the Houthis completely shut down the internet Thursday night, and access remains difficult nationwide.
"Yemen has only one internet service provider, YemenNet, and any group or entity that controls it or has influence over it has the ability to disrupt access to the internet, so the disruptions are nationwide and not limited to areas under the control of the Houthis," said Lara Bitar, the lead researcher at SMEX.
Yemen's communications ministry, which had been run by Saleh supporters until his death, is now firmly under the control of the Houthis, and they have been tightening their grip on all institutions.
Ministry employees not affiliated with the militia said they were no longer welcome at work.
SMEX warned that the interruptions not only threatened press freedom, but also civilian access to emergency services.
"Shutdowns or slowdowns usually indicate potential for intensified acts of repression or violence," Bitar said.
"Yemenis we have spoken to have told us they believe recent internet disruptions are tied to attempts to cover up atrocities and crimes," she said.
Over the past week, two Sanaa-based television stations have come under assault: The Houthis attacked the Yemen Today station of their former allies, detaining 41 journalists and staff, and the coalition bombed the Houthi-controlled state television broadcaster on Saturday, killing four guards.
Fears mount amid crackdown
According to local media reports, the Houthis have so far detained 700 members of Saleh's Republican Guards.
In a Sunday report, al-Arabiya TV revealed that hundreds of leaders, politicians and journalists have fled to provinces under the control of the Yemeni government to escape the Houthis' crackdown.
Al-Shogaa told Al-Mashareq it is not yet clear how many have been affected, "as several leaders have tried to seek sanctuary in areas unknown to the Houthis".
Saleh's lawyer Mohammed al-Masouri told Al-Mashareq he has been on the run because of the Houthis' attempts to detain him.
"That is why I do not go home," he said. "I move from one place to another in an attempt to evade the Houthis' crackdown."
Yemeni forces on offensive
Meanwhile, Yemeni forces backed by the coalition continued to make progress in their bid to liberate al-Hodeidah, retaking the town of Khokha, Hays district, and Tahtiya district over the past two days.
Coalition airstrikes on a training camp operated by the Houthis north-west of Sanaa on Sunday killed at least 26 Houthi fighters, AFP reported.
The head of the training camp in Hajjah province, Amar al-Jarab, was among those killed in the strikes, sources close to the Houthis said, adding that a warehouse where rockets were stocked also was hit.
Yemeni forces retook the Red Sea town of Khokha from the Houthis on Thursday after clashes that killed dozens.
On Sunday, Katyusha rockets believed to have been fired by the Houthis hit Khokha, killing a 6-year-old girl and wounding five other civilians, residents said.
Further east, in the town of Hays and north in Tahtiya, the Houthis clashed with Yemeni forces on Sunday, security sources said.
The International Committee of the Red Cross (ICRC) on Saturday warned against fighting intensifying along the Red Sea coast near densely populated urban areas, calling on all sides to protect civilians.