Arab coalition warplanes pounded Sanaa before dawn Tuesday (December 5th) after the Houthis (Ansarallah) killed former president Ali Abdullah Saleh as he fled the city on Monday following the collapse of their troubled alliance.
As the Houthis moved swiftly to consolidate their control over Sanaa after nearly a week of clashes with Saleh loyalists, the Arab League condemned the killing and Saudi Arabia called for a Yemen free of "militias supported by Iran".
Arab League chief Ahmed Abul Gheit condemned Saleh's killing, saying that the "way it was done reveals to everyone the criminal nature" of the Houthis.
Saleh's killing threatens an "explosion in the security situation", he said.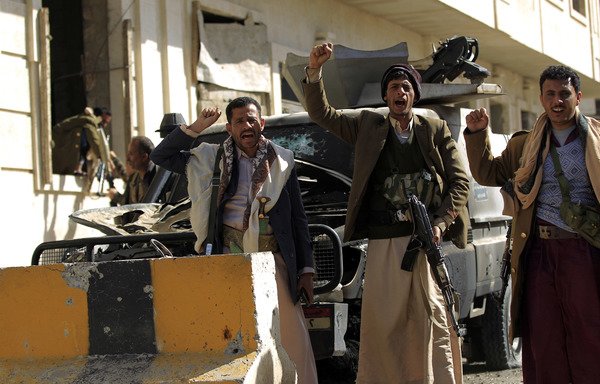 In a statement carried by the Saudi Press Agency, the Saudi cabinet expressed its hope that the uprising against the Iran-backed Houthis "will free Yemen of abuse, death threats and the appropriation of public and private property".
Iranian President Hassan Rouhani meanwhile warned in a televised speech Tuesday that those "attacking Yemen" would regret it, while Islamic Revolutionary Guard Corps (IRGC) commander Mohammad Ali Jafari said Saleh had been killed because he had been trying to overthrow the Houthis.
Saleh had on Saturday urged Yemenis to rise up against the Houthis, following intermittent clashes since Wednesday between his supporters and the militia, sparked when the Houthis stormed al-Saleh Mosque and killed three guards.
He had also reached out to the Arab coalition, asking it to open a "new page".
In response, the Houthis accused Saleh of staging a "coup" against the alliance.
Yemeni forces advance on Sanaa
President Abd Rabbu Mansour Hadi called on Yemenis to unite against the Houthis.
"Let us join hands to end the control of these... criminal gangs and... open a new chapter to rid our beloved Yemen of this nightmare," Hadi said in a televised address late Monday from Saudi Arabia, where he lives in exile.
Hadi has ordered Vice President Ali Mohsen al-Ahmar to "activate military units" and advance towards Sanaa, a presidency official speaking on condition of anonymity told AFP.
Military and government sources said the army would advance on Sanaa from the east and north-east, with at least seven battalions ordered to move forward.
The streets emptied before dark on Monday as coalition aircraft swooped low over the city, carrying out at least seven strikes on the Houthi-held presidential palace, witnesses said.
There were minor clashes between the Houthis and Saleh supporters in southern districts which had been loyal to the former president, residents said.
But there was no repetition of the heavy fighting that had rocked the city for the five previous nights.
A least 234 people were killed and 400 wounded in those clashes, the International Committee of the Red Cross said Tuesday.
Houthis try to consolidate control
New checkpoints manned by the Houthis sprang up across Sanaa as militia leaders called for a mass rally for Tuesday afternoon to celebrate their "foiling of the plot" hatched by Saleh to change sides in Yemen's war.
Saleh, who ruled Yemen for three decades, had joined forces with the Houthis in 2014 when they took control of large parts of the country, including Sanaa.
But that alliance unravelled over the past week, with dozens reported dead in clashes as the former leader reached out to the coalition that has supported the Hadi government's fight against the Houthis.
Saleh was forced to step down in 2012, after his forces waged a bloody crackdown on peaceful Arab Spring-inspired protests calling for his ouster.
The 75-year-old had survived civil war, rebellion in the north, an al-Qaeda insurgency in the south and a June 2011 bomb attack on his palace that wounded him badly.
Following his public split from the Houthis, a military source said the Houthis had stopped Saleh's four-car convoy about 40 kilometres south of Sanaa on Monday and shot him dead, along with two other officials.
UN calls for 'humanitarian' truce
The UN on Tuesday called for a "humanitarian" truce in airstrikes and fighting in Yemen as it seeks to deliver aid to civilians trapped in Sanaa.
UN humanitarian co-ordinator Jamie McGoldrick said he had "sent a message asking for a truce, a peace pause, a humanitarian pause, for the parties to stop shooting, stop fighting, stop airstrikes, so the people can go to hospitals, can go to seek safety ... and go to also find a place for water and food".
"Our ability to get to people over the last five days has been impeded because of the airstrikes, because of the fighting, and our life-saving support activities were blocked," he said.
"Because of our inability to move in the city during the five days -- the UN agencies, Red Cross and NGOs -- we were unable to do our life-saving treatments," McGoldrick said.
"Now the uncertainty continues and despite what happened yesterday, we do not know if we can start doing our operations or whether we have to wait for some time," he added.