Yulia Oshana, an Assyrian Christian from the Khabur River area in the far north-east of Syria, arrived in Lebanon in mid-March 2015, fleeing an "Islamic State of Iraq and Syria" (ISIS) incursion.
She was exhausted, she told Al-Mashareq, and the shock and trauma of her experience impacted her life and her behaviour with her family members and those around her.
Oshana, 48, who had been a calm and understanding woman before her ordeal, became a nervous wreck, wracked with fear.
Excessive concern for the safety of her three children led her to stifle them, she recounted, restricting them from leaving their new home in Beirut's al-Fanar district, which triggered constant disagreements within the family.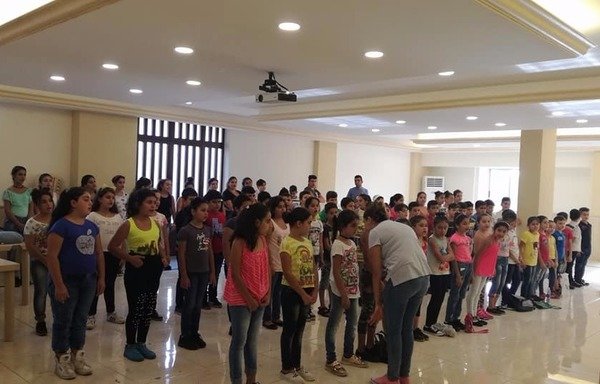 Oshana told Al-Mashareq she attributed her behaviour to her "extreme worry about them after the real horror we experienced in our village when ISIS surrounded us and there was talk of the possibility that they would kill us all".
"We were forcibly displaced from our home, and we and many other families from our village and others in the Khabur area were traumatised," she said.
'Fear kept a grip on me'
"Fear kept a grip on me for a long time, even after we arrived in Lebanon, to the point that I did not know how to deal with my children and the daily problems I encountered," Oshana said.
These days, however, her life has changed for the better, she said.
"I am free of my fear and have regained my calm. I am able to deal with daily problems and, most importantly, I know what bothers my children and what they need," she explained.
Oshana attributes this improvement to her participation in a psychological support session organised by the Support Committee of the Assyrian Church in Lebanon, in co-operation with the Institute for Development, Research, Advocacy and Applied Care (IDRAAC), a non‐profit dedicated to mental health.
"The session helped me regain my self-confidence and dispel the fear I had," she said.
Oshana is one of many Assyrians who were displaced from Syrian and Iraqi towns and villages by ISIS.
The group overran Assyrian villages, capturing and killing a number of residents, while others managed to escape.
These people were able to escape to Lebanon with their lives, but were not able to free themselves from the fear that had been instilled in them.
Psychological and social support
To care for this segment of the refugee population, IDRAAC initiated a project to provide them with medical and psychological care, in collaboration with the Assyrian Church of the East in Lebanon, with funding from the French Embassy.
The two-year project, which concluded at the end of October, also provided psychological and social support to Assyrian children, adolescents and adults who had been subjected to violence by terrorist groups in Iraq and Syria.
"Our work in the project ended because funding dried up," IDRAAC president Elie Karam told Al-Mashareq.
"For two years, we worked to build the capacities of Assyrian volunteers and teachers and organised training sessions to identify mental health problems in all age groups," he said.
Volunteers were trained to teach mothers strategies for raising their children to prevent verbal and physical violence from emerging, and teachers were trained to show them strategies to help them overcome psychological stress.
IDRAAC sought to help Assyrian refugees deal with the "fear and insecurity they felt upon their arrival in Lebanon as a result of the forced displacement and violence they suffered at the hands of ISIS", Karam said.
Breaking the circle of fear
IDRAAC also helped Assyrians handle the frustration they felt, in Lebanon, "over the lack of a future that ensures them a return to their homes", Karam said.
"Their fear and frustrations affected their state of mind and the way they behave in their daily lives," he noted. "Our studies have shown that 70% of them are frustrated, which necessitated our intervention to provide mental health care."
A series of psychological support programmes and workshops sought to free children, adults and the elderly from their fear and strengthen their resilience.
Other programmes trained teachers to develop children's skills, Karam added.
Karam said the project sought to develop the skills of volunteers with the Assyrian Church's Support Committee, as well as teachers, to enable them to provide psychological and health care to terrorism-weary communities.
Despite these efforts, he said, the initiatives "have not succeeded in totally breaking the circle of fear around those who were exposed to violence and experienced moments of horror at the hands of terrorist groups".
"They need considerable support to free themselves from the moments of fear that haunt them," he added.
Reducing anxiety and depression
The Assyrian Support Committee is continuing to run psychological support programmes for Assyrians who have been subjected to violence by terrorist groups in Iraq and Syria, committee chairman Jack Jendo told Al-Mashareq.
"Although two years have elapsed since they arrived in Lebanon, some of them still need health care, be they children or senior citizens," he said.
"We are continuing today what we started with the IDRAAC organisation, which ensured for us the continuity of health and psychosocial support at the clinic of St. George Hospital in Achrafieh," he said.
The committee continues to work with mothers and families through awareness campaigns to help them overcome the trauma of their experience, he said.
It also is working on several projects with UNICEF, World Vision and a German organisation "to create a suitable atmosphere for children who have experienced the consequences of wars and terrorist acts", he added.
The committee and partner organisations, with the help of volunteers, have organised many activities for children to help them cope with the after-effects of violence and address any psychological damage, he said.
"It can be said that the programmes we run to treat the after-effects of ISIS's violent practices have reduced the level of anxiety, frustration and depression among Assyrian refugees in Lebanon," he said.
"But we have to do more to completely eliminate those negative emotions."