Yemen's ongoing war is eroding the successes achieved in recent years in raising school enrollment rates, particularly among girls, officials told Al-Mashareq.
According to the UN children's fund (UNICEF), girls are 79% more likely to be out of school than boys in countries experiencing conflict.
In Yemen, where the government has been fighting a protracted war with the Houthis, the rate of girls' enrollment has dropped significantly, with 31% now out of school, UNICEF said October 11th, the International Day of the Girl Child.
Yemeni officials said the drop in girls' school attendance threatens to reverse the achievements made in recent years to increase girls' enrollment in school.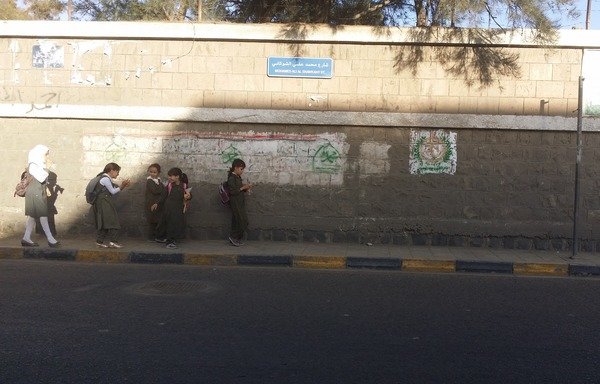 "The war has directly impacted the rate of student enrollment in schools, especially among girls, for security and economic reasons," Deputy Minister of Education Mohammed al-Saqqaf told Al-Mashareq.
The displacement of large numbers of people to Sanaa, especially from Amran and Saada provinces in the north, and Taez and Ibb provinces in the south, has inflicted a severe economic burden on families, he said.
This has contributed to their decision to keep their daughters home, he said.
Damaged infrastructure, security concerns
"The number of schools that were totally or partially damaged exceeds 2,000, and this has directly affected the enrollment rate among girls, especially in rural areas where parents refuse to send their girls to co-ed schools," al-Saqqaf said.
Security concerns and fears of attacks against schools are other reasons parents keep their daughters home, he said.
"The difficult economic conditions parents are experiencing and the absence of work due to the war have forced families to focus their efforts on making a living," he said, noting that many children do not attend school because their families cannot afford to pay tuition fees.
Along with the ministry's efforts to encourage school enrollment, a number of international aid organisations "provide school bags and food", he said.
In some rural areas, nominal amounts of cash are given to parents to encourage them to send their daughters to school.
"However, these efforts often collide with economic conditions and security concerns," he said.
Yemen had raised the school enrollment rate by 17% in the past 10 years, according to economist Abdul Jalil Hassan, citing data from the National Basic Education Development Strategy (NBEDS).
UN agencies classified education in Yemen as being in a state of emergency due to the displacement crisis and use of schools as displacement camps or within the military conflict, disrupting the education process, he told Al-Mashareq.
Sanaa schools crowded with IDPs
While schools are empty of students in many parts of Yemen, classrooms in the Sanaa administrative district are overcrowded due to the influx of displaced families to the area.
Sanaa has received about 100,000 male and female students displaced from other provinces, said Mohammed al-Fadhli, director-general of the district's Education Office.
This has forced schools to operate both morning and evening shifts, he said.
"This has swelled school enrollment and presented us with the problem of accommodating them and meeting their needs with the limited resources available," he told Al-Mashareq.
A lack of classroom space and the condition of existing school buildings remains a concern, al-Fadhli said.
"New school construction has been halted for five years and a number of schools are either partially or totally out of service," he said.
Increasing school enrollment is a good thing, "provided that the schools have the educational requirements including textbooks, workshops and teachers' present in the classrooms" said Sanaa private school teacher Iman Hussein.
However, she told Al-Mashareq, public schools lack most of these resources and teachers do not show up for work because their salaries have been suspended.
This "threatens to render the future generation ignorant and threatens the future of the country", she said.