The "Islamic State of Iraq and Syria" (ISIS) on Tuesday (September 26th) posted pictures on social media sites of six Sinai residents the group allegedly executed for their co-operation with Egyptian security forces.
The move has sparked angry reactions among Egyptians who took to social media to share the pictures of the victims and condemn the barbaric act.
ISIS decapitated five of the victims and killed another by shooting, local media reported. All of them were residents of North Sinai's al-Arish.
Two of the victims were children and three elderly men, with the six kidnapped five days ago from al-Arish.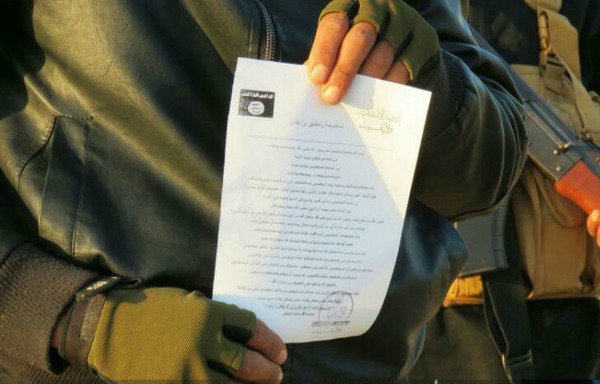 Other photos released by ISIS showed a number of masked militants distributing papers at a checkpoint in North Sinai that call on local residents to join or follow Wilayat Sinai.
ISIS threatens Sinai tribes
ISIS continues to carry out violent assaults against civilians in North Sinai.
On September 20th, the group announced it had killed four tribesmen it kidnapped weeks before in Qabr Amir, near Rafah.
ISIS also has been setting fire to the vehicles of residents and tribesmen who co-operate with the Egyptian army.
Residents of Sheikh Zuweid in northern Sinai said they found leaflets while shopping at the weekly Tuesday market in the central town area, warning them against co-operating with the army.
"Wilayat Sinai elements are cowards and shameful, and that is why they target unarmed civilians," a Sinai resident said on Um Sinai Facebook page.
"ISIS is still living in the illusion of creating a state for them in Sinai," he said, adding that "they are not men and are not capable of confrontations, and that is why they resort to kidnapping and hiding".
"We shall crush ISIS, and Sinai tribes' battle against them will not stop until they have been eliminated once and for all," he said.
ISIS's increasing arbitrary kidnappings and executions of civilians under the pretext of co-operating with the army is nothing but an attempt to gain more time in their battle against the army, said strategic expert Maj. Gen. Sameh Ali.
"The group chooses its victims from border villages in Rafah which are difficult to secure," he told Al-Mashareq.
ISIS has failed to intimidate Sinai people in spite of its continuous attacks against them, he said, adding that the "tribes will continue to co-operate with the army until ISIS elements are routed from Sinai".