Lebanese farmers are getting ready to reclaim their lands in the outlying areas of Ras Baalbek and al-Qaa after a forced five-year absence imposed by the "Islamic State of Iraq and Syria" (ISIS).
Last month, the Lebanese army drove ISIS from the mountainous border areas around the two towns during Operation Fajr al-Juroud (al-Juroud Dawn).
Operations are under way to clear those areas of mines and improvised explosive devices (IEDs) left behind by ISIS.
In Ras Baalbek, residents "are eagerly waiting to return to their land in the juroud", said farmer Naji Nasrallah, the official in charge of nurseries at the town's agricultural co-operative.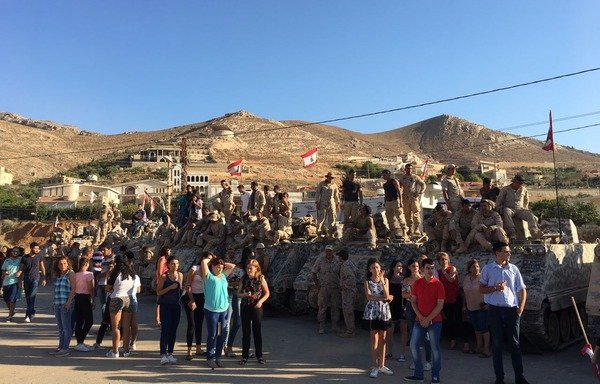 "We cannot go to our lands at the present time, because the army is in the process of dismantling and detonating thousands of mines and IEDs planted by ISIS," he told Al-Mashareq.
In the meantime, farmers are making plans to reclaim their lands for cultivation, he said.
This land, including mountain slopes and valleys, totals more than one million square metres, and is planted with rain-fed crops such as wheat and barley and stone fruit trees such as apricots and cherries.
In recent years, farmers had begun to cultivate new crops in greenhouses, and the land includes vast pastures for the grazing of cattle.
Before ISIS occupied the juroud, residents "had done reclamation work on their lands and drilled ground wells for irrigation at the cost of thousands of dollars, while others opened dozens of quarries", Nasrallah said.
Nasrallah and his uncles own more than 100,000 square metres of land between Shaab al-Keif -- where ISIS claimed a cave as its headquarters -- and the Syrian town of al-Qara.
"We hope the government will provide assistance to farmers to encourage them to return to the juroud and invest in agricultural lands," he said.
Permanent army posts
Residents "cannot wait to get back to their lands and agricultural enterprises once the army finishes detonating the mines" and opens roads, said Ras Baalbek municipal chief and retired Lebanese army officer Dureid Rahhal.
The army has been setting up permanent posts in the juroud, which will "make residents feel safe and encourage them to invest in their lands once again", he told Al-Mashareq.
In the past, patrols from the Customs Authority used to make cursory stops in the juroud, but now the army will have a permanent presence there, he said.
Ras Baalbek residents own large swaths of land in the juroud that they used to plant with various crops, Rahhal said, but after ISIS's occupation, the cultivated area shrunk from one million to 60,000 square metres.
"Residents are eager to cultivate their land once again under the protection of the Lebanese army," he said.
Preparing for post-ISIS era
In al-Qaa, residents are waiting for the army to finish clearing mines from the outlying areas so they can return.
Among them is al-Qaa town head Shawki al-Toum, who told Al-Mashareq he owns about 50,000 square metres in Wadi al-Keif, where he grew wheat and barley.
"ISIS's presence on my land and in the juroud kept it from being cultivated for five years," he said. "Today, however, our army has liberated our land with blood and brought it back under the state's authority."
Lands in the 100 square kilometres of juroud al-Qaa had served as the main source of livelihood for many local residents.
"ISIS turned 45 square kilometres and their immediate surrounding area into its theatre of operations, which kept residents away for security reasons," al-Qaa mayor Bashir Matar told Al-Mashareq.
Today, for the first time, the army is deployed in the juroud, he said.
"Everyone is preparing for the post-ISIS stage, and residents who own land in the juroud are preparing to cultivate bountiful crops," Matar said.
The municipality also is seeking to implement tourism, religious tourism and environmental projects in the area, he added, and is planning to build water collection ponds and nature reserves to preserve plant and forest wealth.
"We also look forward to organising sports activities, such as hiking and bicycling, and are developing a plan to take advantage of our archaeological landmarks, as we have the oldest Roman water channels," he said.