For the first time since the summer of 2014, dozens of Lebanese farmers have been able to access their agricultural land in the outlying areas of Arsal.
Many of Arsal's farmers had been cut off from their agricultural lands since the August 2014 clashes between the Lebanese army, the "Islamic State of Iraq and Syria" (ISIS) and the former al-Nusra Front (ANF).
This land, planted with cherry and apricot orchards, had served as the main source of livelihood for many local residents.
But the battles of 2014, and the expansion of ANF and ISIS into the outlying areas of Arsal, prevented farmers from accessing and cultivating their orchards.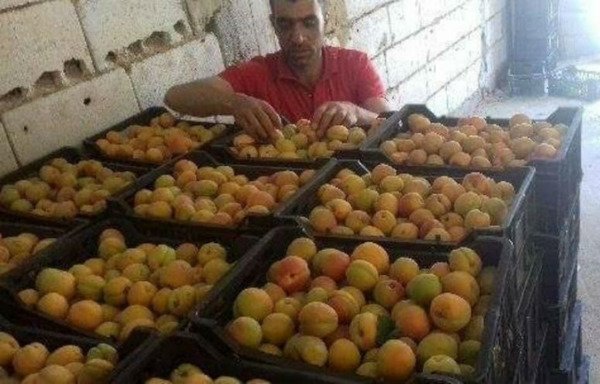 Farmers survey the damage
Arsal farmer Mohammed al-Hujairi is one of 74 farmers who were able to recover their orchards after the Lebanese army established security in the area.
"I was deeply saddened when I entered my orchard, which is planted with 400 cherry and apricot trees, because most of them are dried up," he told Al-Mashareq.
Many of the remaining trees had been chopped down by ISIS and ANF elements for use as firewood or to be sold, al-Hujairi said.
"I have not been able to reach my land to take care of my trees since the outbreak of events in the summer of 2014 between the Lebanese army and terrorist groups," he said.
"I lost a main source of my income, as my orchard used to generate between $5,000 and $10,000 annually, depending on the season," he said.
Now that he has his land back, al-Hujairi said he plans to plant new trees.
Arsal's farmers have been able to return to their land thanks to the hard work of the Army Command, security agencies and politicians, who have been working together to achieve this for close to a year, said Arsal mayor Bassel al-Hujairi.
"We view the 74 farmers' recovery of their orchards as a first step that we hope will continue," he told Al-Mashareq, noting that the recovered area is still less than 5% of the total area of the agricultural lands.
Tight security measures accompany the return of farmers to their lands, he said, "as the security threat still exists and from multiple sources, who may object to their return and subject them to sniper fire".
Time for replanting, recovery
Former Arsal mayor Abdel-Hamid Ezzeddine told Al-Mashareq his orchard has been stripped of all the apricot and cherry trees which used to flourish there.
"The army had to bulldoze it for security reasons owing to its strategic location," he said. "I felt a huge lump in my throat but did not grieve, because the security of my town and my country is more important than any tree."
Trees can be replanted, he said.
Ezzeddine accompanied the Lebanese army on June 15th to identify agricultural holdings to the south and south-west of Arsal.
Only 74 farmers have so far "benefited from the army's decision to allow farmers access to their orchards, where they sorrowfully checked the cherries and apricots that remain on the branches", he said.
The area of the recovered orchards is small "and gives farmers, who have not entered them since August 2014, an outlet", he said.
But recovery will be a long process, Ezzeddine added, as the orchards require reclamation, intensive care and the planting of new trees.
"We have to wait two years for them to recover," he said.
Until mid-2014, these trees produced an estimated 60,000 tonnes of apricots and cherries, Ezzeddine said, expressing his hope that the recovery of lands that are still off-limits to Arsal farmers will continue and the crop yield will rise again.