An outbreak of fire at two Bekaa Valley refugee camps this week comes amid a rising debate in Beirut about what role the Lebanese government should play in returning refugees to safe areas in Syria.
Current debate is centered on whether this should be done via talks with the Syrian regime, as suggested by Hizbullah and the March 8th coalition, or in co-ordination with the UN, as suggested by Prime Minister Saad al-Hariri and March 14th.
A 7-year-old girl died and seven people were injured when a fire broke out in a refugee camp near Bar Elias on Tuesday (July 4th), while another blaze near the village of Qab Elias on Sunday killed one person and wounded six.
The Bar Elias fire, likely caused by a gas explosion inside a tent, destroyed 22 of the camp's 185 tents, according to Lebanon's civil defence service.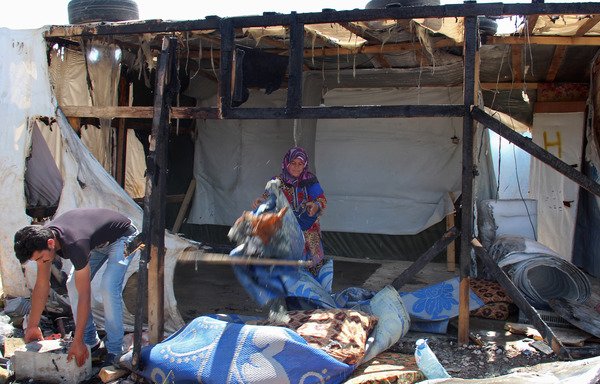 In Qab Elias, fire destroyed all but three of the camp's 193 tents.
At Wednesday's cabinet meeting, al-Hariri was decisive in his assertion that the return of Syrian refugees to their country is the responsibility of the UN.
The global body has to draw up a safe plan for this purpose, he stressed, noting that the issue is "controversial and should not be discussed by the cabinet".
Meanwhile, the return of a second batch of about 500 Syrian refugees to their home villages of Assal al-Ward, al-Jabba, al-Maara and Yabrud has failed.
The first convoy of returnees, 53 families, had previously crossed the Lebanese-Syrian border. A Lebanese army escort accompanied the group to the last border post, and they then crossed the area under Hizbullah control all the way to west al-Qalamoun.
"There are about 100,000 displaced Syrians in Arsal, and this is a big number if compared to the Arsal population, some 30,000," Arsal mayor Bassel al-Hujairi told Al-Mashareq.
"We encourage displaced Syrians to safely return to Syria, especially as assistance and services provided by donors to refugees have decreased, and the refugees and the host community are now facing tough conditions," he said.
Return must be voluntary and safe
"The Lebanese state needs to take a decision as soon as possible about the return of displaced people to the safe and stable areas in Syria, which are many, without looking at political gains for this or that side," said Lebanese MP Amal Abu Zaid of the Change and Reform bloc.
"Rather, we should look at the real gain which our country will make from each step that the Lebanese agree on," he told Al-Mashareq.
"The Baabda Document focused on preserving the structural components of the Lebanese state, especially its demography and geography, and on confronting any attempt to settle any non-Lebanese group on the land of Lebanon," he said.
"The return of refugees is a priority for UN Secretary-General António Guterres and Special UN Envoy for Syria Staffan de Mistura," said UN Special Co-ordinator for Lebanon Sigrid Kaag.
"However, any return of refugees to their country must be voluntary and be done in conditions of safety and dignity," she stressed.
"This is a central principle of international law, and it is impossible to answer right now whether or not there will be safe areas in Syria in the near future where refugees will be willing to go back," she said.
"The situation is still extremely fragile and the conflict is raging on," she added.