Countries taking part in the recent Arab-Islamic-American Summit in Riyadh expressed their willingness to commit troops to the Islamic Military Alliance, though it is not yet clear what role such a force would play in the region.
In the summit's closing statement, issued May 21st, the leaders of participating countries "welcomed the readiness of a number of Islamic countries" to participate in the Saudi-led counter-terrorism alliance.
They agreed "to provide a reserve force of 34,000 troops to support operations against terrorist organisations in Iraq and Syria when needed".
Ongoing regional tension has had a direct impact on Gulf states neighbouring Iran, said strategic and security expert Brig. Gen. Nizar Abdel Kader, a retired Lebanese military officer.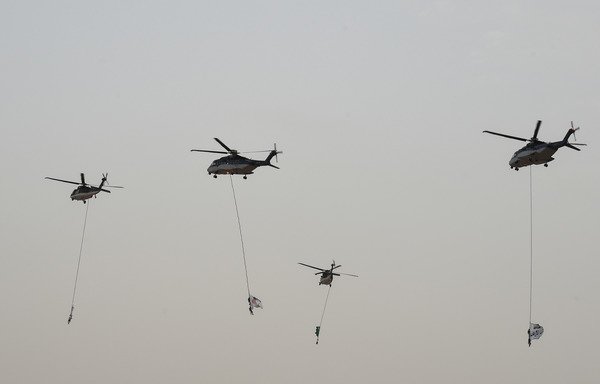 This has "led to an awakening about the need to strengthen military co-ordination and co-operation among Arab countries", he told Al-Mashareq.
The success of this force hinges on the ability of Saudi Arabia to establish a unified Gulf position and move forward in co-operation with Egypt, he said.
This is because Egypt and Saudi Arabia "are the two biggest Arab powers, and any co-operation between them would draw other countries to this coalition", he added.
This in turn could pave the way for the emergence of an Arab deterrent force capable of standing in the face of Iranian spread and expansion, he said.
Joint military exercises
There is great potential for the military alliance, which was officially launched by Saudi Arabia in 2015 and now counts 41 countries as members, said military expert and retired Lebanese military officer Brig. Gen. Charles Abi Nader.
Military co-operation already exists between Jordan, Egypt and Saudi Arabia, he told Al-Mashareq, noting that annual military exercises take place in Jordan with the participation of other countries.
"The exercises give the parties involved experience in co-operation among themselves and co-ordination points the armies will need when they take part in military and security operations," he said.
Abi Nader noted that the three countries have been co-operating already with regard to the conflicts in Syria and Yemen.
Military developments in the tri-border area between Jordan, Syria and Iraq "will be a gateway for this forthcoming force to join the ongoing conflict in the region", he said, especially as its key goal is to fight terrorism in Iraq and Syria.
The tri-border area is of strategic importance as it is a "point of contact between Jordan, Syria and Iraq, and because of its proximity to Saudi territory", he said.
It is therefore a gateway through which joint military forces can enter Syria and move north to confront the "Islamic State of Iraq and Syria" (ISIS), he added.
Abi Nader pointed to the potential opportunity this area provides to begin securing the Iraqi-Syrian border.
Containing Iranian expansion
The Riyadh summit broadly agreed to confront terrorism, and this lays the foundation for the establishment of a military alliance in the region, said Lebanese American University professor of international relations Imad Salamey.
Fighting terrorism requires the establishment of "a partnership to exchange security information in [the course of] responding to extremist forces", he said.
Salamey said he believes the joint force's objective is to both confront terrorism, and create a large military force in the region to contain the Iranian expansion.
"The existence of such a force would be useful especially as the [security and] stability of the Gulf region, which is of vital importance to the global economy, is under threat," he said.
There is a need to ensure the region's stability and contain the threat from Iran, he added.