"Islamic State of Iraq and Syria" (ISIS) elements have been using, manufacturing, smuggling and dealing illegal drugs like Captagon to combat battle fatigue and raise revenue for the group, Syrian officials tell Diyaruna.
ISIS has reportedly attempted to justify this illegal activity by issuing a fatwa in which it allows the use of the stimulant on the pretext that it "facilitates jihad".
The pills are popular with fighters because they induce a sense of euphoria and are highly effective in keeping the user alert for long periods of time, according to those familiar with the drug. They are also relatively easy to manufacture.
"Due to the protracted length of the conflict in Syria, several scourges have emerged in many areas of the country, including drug addiction," said Marwan al-Shihabi, commander of an FSA faction based in al-Bab.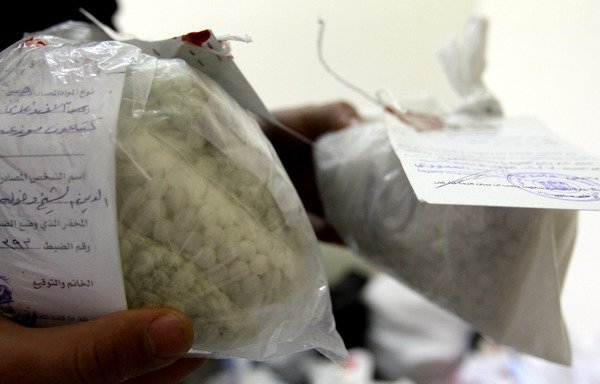 This is especially common among fighters, a large number of whom consume Captagon to stay awake and Tramadol to relieve pain from injuries, he said, adding that the pill-induced euphoria gives fighters a sense of absolute power.
Captagon pills are particularly popular among ISIS fighters, al-Shihabi said, as "its usage is not forbidden, because according to them it helps with jihad".
Manufacture and distribution
ISIS emirs used to obtain the pills through intermediaries who smuggled them into Syria, and would distribute them to rank-and-file fighters, al-Shihabi said.
"However, the group has apparently been able to set up its own manufacturing plants amid the near-total embargo imposed on it," he said.
These pills are not difficult to produce, as the raw materials used in their manufacture are relatively easy to obtain, he said.
Al-Shihabi said he has learned that ISIS-manufactured pills initially came from Iraq, and were informally known as "Fallujah" pills, in reference to their source.
"Those pills subsequently disappeared from the market, and a single new type of pill manufactured in Syria appeared on the market that is similar to the previous pill, only yellowish in colour," he said.
Most pill production facilities are located in Deir Ezzor, he said, where it is sold heavily and semi-openly by traffickers and smugglers who obtain it from ISIS.
On dozens of occasions, as the Syrian Democratic Forces (SDF) swept areas of northern Syria liberated from ISIS, SDF fighter Wael Jaber said he found boxes of Captagon pills left behind at ISIS bases and in the homes of its fighters.
"Small bags containing 10 to 15 Captagon pills also were found in searches of the bodies of dead ISIS fighters," the al-Hasakeh native told Diyaruna.
Many wounded ISIS fighters did not exhibit signs of pain commensurate with the often serious wounds they suffered, he said, adding that he learned from medics this was because their bodies were completely drugged.
'Jihad pills'
Camp security at al-Rukban, an informal refugee settlement in the closed military zone between Jordan and Syria, recently detained a man who was selling Captagon pills, according to camp relief worker Tariq al-Nuaimi.
The dealer said the pills had been obtained in ISIS-controlled areas, and revealed that "the group provides these pills at very low prices to those who want to sell them in the camp" or elsewhere, al-Nuaimi told Diyaruna.
The dealer also revealed that smugglers have been selling the pills outside Syria in huge quantities, al-Nuaimi said.
"The pill trade has become the main activity for smugglers, owing to the ease of obtaining it from people close to the group or the group's elements themselves," he said.
Known as the "jihad pill", Captagon manufactured in ISIS-controlled areas "is distinguished by its yellowish colour, in contrast to the pills that used to come from outside ISIS areas, which were white in colour", he said.
Prices vary from one region to another, with drug pushers selling pills for $1 each in the camps, and up to $2 in more affluent areas.
"The price of a 10-pill bag ranges from $30 to $50, depending on the quantity and the area in which it is delivered," al-Nuaimi said.