Children are a key focus of UNICEF's 2017 humanitarian action plan for Yemen, with special projects that run the gamut from health, education and nutrition to environmental sanitation and social protection.
According to UNICEF representative in Yemen Meritxell Relano, 70% of Yemenis are in need of urgent humanitarian relief due to the difficult conditions brought on in large part by the ongoing war.
More than 4,000 civilians have been killed, including 1,332 children, 14 million people have no access to safe drinking water and 14 million barely have access to health services, she said, speaking at a February 8th press conference in Aden.
Additionally, she said, two million Yemenis are internally displaced -- half of them children -- and two million children are out of school.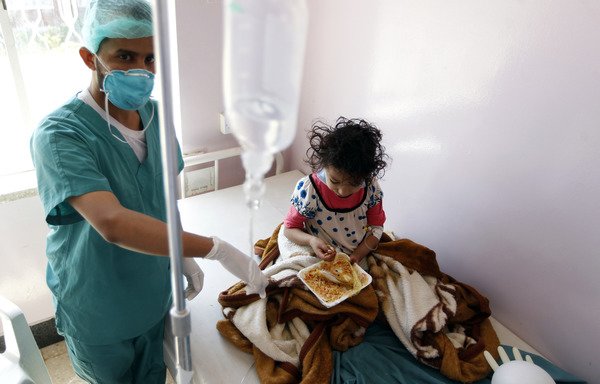 UNICEF's 2017 projects will focus on health, education and nutrition, environmental sanitation and child and social protection, she said.
The Yemen plan, part of a broader $3.3 million UNICEF appeal for vulnerable children around the world, calls on donors to provide $236.6 million to meet the essential needs of the most vulnerable children in all Yemeni provinces.
Targeting 9.8 million people
UNICEF is targeting 9.8 million Yemenis, including 6.9 million girls and boys, in co-ordination with other humanitarian organisations, UNICEF in Yemen spokesman Mohammed al-Asaadi told Al-Mashareq.
With Yemen's health sector "on the brink of collapse", UNICEF seeks "to increase nutrition services and focus on purchasing vaccines and boosting health services for newborn babies and social protection services", he said.
The UN children's fund will work to provide essential supplies to ensure the continuity of health services and prevent malnutrition and the outbreak of diseases such as cholera, he said.
UNICEF also seeks to boost access to clean water, he added, and is seeking to operate, maintain and repair water networks that will serve four million people.
By repairing schools and setting up temporary learning spaces at schools that were heavily damaged in the war, UNICEF seeks to provide sustainable education services to 1.8 million children, he said.
Al-Asaadi appealed to donors to fully fund the 2017 action plan for Yemen in order to address the country's critical humanitarian needs.
Polio immunisation campaign
Yemen's Ministry of Health conducted a polio immunisation campaign from February 20th to 22nd for children under the age of five.
The campaign was "very successful and targeted more than five million Yemeni children", Ministry of Health spokesman Tamim al-Shami told Al-Mashareq.
"UNICEF contributed to this success and effort," he said, stressing the importance of continuing the campaign, which is necessary to prevent the outbreak of diseases and epidemics.
The humanitarian situation is worsening every day, he noted, calling on all parties to put an end to the conflict and prevent conditions from deteriorating.
Humanitarian organisations operating in Yemen, including UNICEF, are helping to mitigate the effects of the war and provide help to vulnerable groups, especially children and women, economist Abdul Jalil Hassan told Al-Mashareq.
The aid provided to Yemen is currently limited to emergency assistance, as Yemen is in a state of war, he said.
"UNICEF and other relief organisations are continuing to operate under these very difficult conditions, in war and conflict zones, to ease the suffering of the affected segments [of the population], especially the displaced," Hassan said.