Lebanon's Ministry of Public Health is conducting a measles vaccination drive in response to a recent outbreak of the disease among unvaccinated children.
The drive is targeting children between the age of two months and 15 years, the ministry said in an April 4th statement.
News of the outbreak brought a number of parents to clinics to have their children vaccinated, among them Fatima al-Qassim, whose 15-month-old daughter, Maysoun, received her vaccination at the Mazraat Yachouh clinic.
"I heard about the measles epidemic from my neighbour, so I brought [my daughter] to the clinic to have her vaccinated, along with her three brothers," al-Qassim told Al-Mashareq.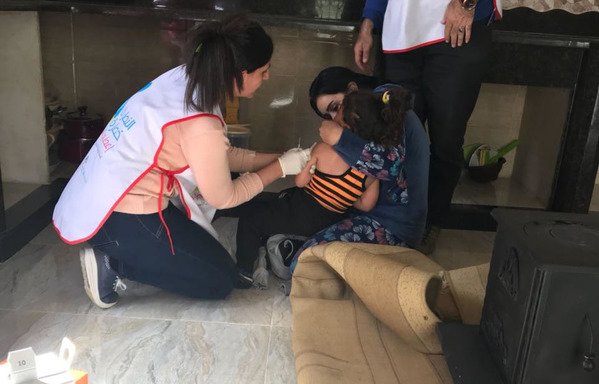 In early April, UNICEF announced there had been a sharp increase in measles cases in Lebanon, with 184 cases recorded in the first three months of 2018.
UNICEF is among several partners supporting the ministry's campaign, which also includes polio vaccinations, "in order to mitigate the risk of polio spreading from Syria".
"If we do not react now, more serious epidemics will hit," said UNICEF's representative in Lebanon Tanya Chapuisat.
To this end, the agency has issued a $5 million appeal for funding to help it replenish vaccine stocks and reach vulnerable children in isolated areas.
Children must be vaccinated
Children must be vaccinated, and parents are responsible for ensuring their children receive the appropriate immunisations, the ministry said.
To ensure this happens, the ministry has conducted vaccination drives in areas such as Zahle and Shatila, and is "making vaccines available free of charge at all primary health care centres and clinics throughout Lebanese territory".
The 184 cases of measles recorded in Lebanon in the first three months of the year were all diagnosed in hospitals or clinics, UNICEF health and nutrition specialist Rouham Yamout told Al-Mashareq.
This means that there are more cases, as this figure "does not represent the total number of cases, only the most serious ones", she said.
As of March 31st, she said, most cases were recorded in the Shatila refugee camp in Beirut and al-Faour district in the Bekaa Valley, with Beirut's al-Jnah district also recording an outbreak in the first week of April.
Most of the measles cases involved "Lebanese children, 10% of whom are under the age of one", she said, noting that most had not been vaccinated before.
"Measles is a serious and deadly disease, and it can spread particularly fast among the most vulnerable and unvaccinated children," she said, adding that it can cause complications for children, especially those who are very young.
Vaccination campaigns
For this reason, the ministry, with support from UNICEF, the World Health Organisation (WHO) and Doctors Without Borders (MSF), carried out vaccination campaigns in the Shatila camp and al-Faour district targeting 25,000 children.
The campaigns targeted children regardless of nationality, Yamout said.
The ministry, in co-operation with UNICEF and WHO, is developing and implementing a three-programme plan to respond to the outbreak.
One programme will inoculate all children under the age of 15 who dropped out of the regular vaccination programme, focusing on those living in areas where there has been an outbreak of the disease, Yamout said.
Children under the age of five who have not received a polio vaccination also will be vaccinated as part of this programme, to boost collective immunity against polio and eliminate the risk of it returning to Lebanon, she said.
A second programme calls for booster shots in the areas previously covered by the intensive vaccination programme.
A third programme offers continued support for the vaccination of children crossing from Syria to Lebanon and children visiting UH High Commissioner for Refugees (UNHCR) reception centres.
Funding for these campaigns was "integrated into UNICEF's annual budget and a large portion of it was covered by a number of donor countries and organisations such as the EU", Yamout said.
At the Mazraat Yachouh-Metn clinic, the clinic's three doctors "vaccinate between 30 and 40 children a day, three days a week, under the guidance of the Ministry of Health", head nurse Claudine Yaqoub told Al-Mashareq.
Vaccination is the only effective way to prevent the measles, she stressed.