Egyptian forces in North Sinai are on high alert after a string of attacks against Christians carried out by "Islamic State of Iraq and the Levant" (ISIL) affiliate Wilayat Sinai.
Over the last month, seven Christians have been killed in the provincial capital of al-Arish. Five were shot to death, one was beheaded and another set on fire.
The attacks have sparked condemnation from both Muslims and Christians, but dozens of Coptic Christians have fled the province out of fear , church officials said last week.
The government has provided housing for 118 Coptic families who fled North Sinai, Minister of Legal and Parliamentary Affairs Omar Marawan said Sunday (February 26th).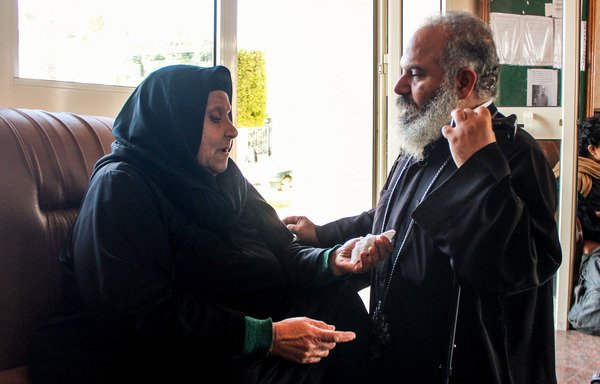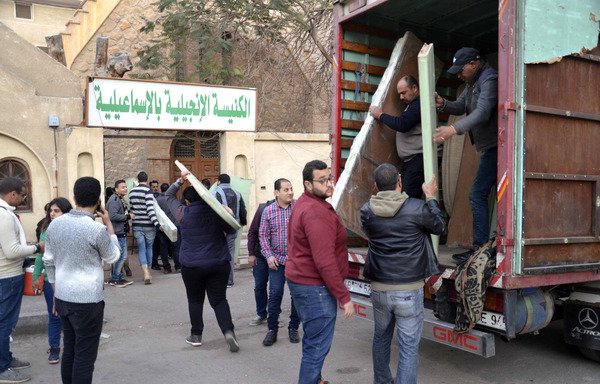 Of this number, 96 families were given shelter in neighbouring Ismailia governorate, 12 in Assiut, eight in Qalioubia, and two in Cairo, he said.
'Hold fast to national unity'
Dar al-Ifta's fatwa observatory has called on Egyptians "to hold fast to national unity and not allow malicious and destructive propaganda to enter this country".
Terrorist groups have been able to find a foothold in Syria, Iraq and Libya because they were successful "in inciting sectarian and civil conflicts in those countries", the observatory said.
"The national cohesion among the Egyptian people and their support of their time-honoured institutions in their fierce war against extremism and terrorism is the most important guarantee and strongest pillar to prevent extremist and takfiri groups from expanding across the country's territory," it said.
Although Christians have been targeted in the recent spate of attacks, everyone in Sinai must remain united, said al-Arish resident Ibrahim Obeid, 50.
"The people of the region know that they are all targeted and that the intent is to incite Copts against Muslims to cause reactions that inflame the region with sectarian sedition," he told Al-Mashareq.
"There is currently solidarity among the people to the point that a sizable number of Christian families sought refuge in the homes of Muslim families until the situation calms down," he said. "Coptic shopkeepers are currently surrounded by Muslim merchants and friends who do not leave their side."
ISIL targets all Egyptians
Bishop Mikhail Bakhus, who is currently in al-Arish, rejects the notion that ISIL is targeting Christians in the northern Sinai region.
"The more accurate statement is that ISIL continues to target Egyptian citizens in the region, for in citizenship there is no difference between a Muslim and a Christian," he told Al-Mashareq.
"If this point is given emphasis, it would be the best deterrent to ISIL's attempts to intimidate Christians, force them to leave their land and sow discord between the people of the same country," he said.
Terrorist groups targeted Muslims even before they did Christians, he said, and they have killed a large number of Muslims in heinous ways.
"The people of the region are known for their rejection of sectarian racism," Bakhus said. "Their concerns are the same, as are their joys and sorrows, and their sons are fighting side by side in the ranks of the Egyptian army."
"A state of tension prevails among Christians in al-Arish region, mixed with indignation towards the terrorists," said al-Arish area middle school teacher Medhat Zakher.
One of his relatives was killed on February 12th, he told Al-Mashareq, when terrorists opened fire on him as he left his veterinary clinic.
"Copts fully differentiate between the Muslim inhabitants of the region and the terrorists, especially as the number of Muslims who were killed by extremists in the region is many times the number of Christians killed," he said.
"This is nothing more than an attempt to ignite sectarian strife among the people of the same country and retaliate against Copts for their clear and bold position on the side of the legitimate security forces and for supporting the Egyptian army in the past," he added.
Zakher praised the strong unity among the region's Muslims and Christians, noting that "the funerals of the killed Christians were heavily attended by Muslims on a scale never before seen in the region".
He expressed his hope that "this cloud will soon dissipate and lift from over Egypt, the Sinai region and the world".
Enhanced security measures
The attacks on Christians in North Sinai took place within about a 10-day period, said Brig. Gen. Jawdat Ashraf, an Egyptian police official stationed in Sinai.
This indicates that "a plan was laid out to attack Copts and it was implemented quickly", he said.
A new package of security measures aims to prevent a recurrence of such incidents, he told Al-Mashareq.
The new measures include a ban on the use of motorcycles in some areas, such as central and northern Sinai and the area between Rafah, Sheikh Zuwaid, al-Arish, Jabal al-Maghara, Jabal al-Khatmiya, Taba and Ras Sudr, he said.
"Investigations and security information confirmed that terrorists are using motorcycles to move around after their movements via SUVs were curtailed," he said, adding that motorcycles have been used to carry out attacks.
Egyptian forces also are using new tactic, in which "they totally cordon off a certain area then conduct raids and meticulous searches for terrorists", Ashraf said.
The first operation of this type was conducted February 22nd in the Kram Abu Nigala district in downtown al-Arish, he said, adding that during the raid, all houses and shops were searched and people's IDs were checked.
This tactic was used "after it was confirmed that terrorists infiltrated some residential areas after fleeing the desert region", he said.
Many extremist elements have fled the desert for urban areas as a result of the successive strikes carried out by the army as part of Operation Martyrs' Right, he added.
Security forces now have the names of three suspects "who are widely thought to be behind the assassinations of Copts", he said, adding that all three under the age of 30, and the leader and mastermind of the cell is a foreigner.